New federal judicial training program to debut at Vanderbilt Law School
Mar 14, 2014
A new seminar will offer mid-career federal judges an opportunity to reflect on their years on the bench and learn from their own experiences and those of their peers. The Mid-Career Seminar for U.S. District Judges is the product of a new partnership between the Federal Judicial Center (FJC), which provides training programs and resources for federal judges, and Vanderbilt Law School.
The new training program is the latest evidence of the law school's expanding role as a center for the study of judges and judging. The first seminar will be offered in fall 2014 at Vanderbilt Law School.
Designed to help judges meet the extraordinary personal and professional challenges of their work, the seminar will led by U.S. District Judge Jeremy Fogel, director of the FJC, and Terry Maroney, who is a professor of law and a professor of medicine, health and society at Vanderbilt.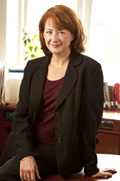 "This seminar will provide a training opportunity for federal district court judges who have been on the job for between five and 10 years," Maroney said. "These judges have been on the bench long enough to know their strengths and weaknesses, and to have developed their own judicial philosophies and personalities. This is a perfect time for them to reengage with their aspirations in becoming judges.  We aim to create space for them to reflect and recharge in a deep way, something their daily work pressures can make difficult."
New third-phase training for federal judges
The seminar adds a third phase to the training the FJC provides federal judges. All newly appointed federal judges receive FJC training that addresses the job basics. That entry-level training is followed within months by a second training session that addresses the knowledge, skills and attributes judges need at the beginning of their careers. In 2012, Maroney and Fogel, along with appellate Judge David Hamilton of the Seventh Circuit, worked together to develop and lead a session offering recently appointed judges insights on ways to cope with the emotional challenges of the job, particularly at criminal sentencing. This session is now offered in the second training phase for judges serving on the U.S. District Courts.
Building on the success of that collaboration, Maroney and Fogel developed the new Mid-Career Seminar, which offers judges a third phase of training. Admission to the seminar will be exclusive. Approximately 30 judges each year will be accepted for the Mid-Career Seminar through an application process.
For Fogel, the idea for such a seminar was born out of his more than 30 years as a sitting judge, first in the California state courts and later as federal judge in the Northern District of California. Drawing on his experience of the daily challenges of judging and his skills as a teacher and mediator, he designed a series of programs aiming to enhance excellence in judging. His leadership of FJC has provided Fogel an opportunity to enact that vision on a much broader scale.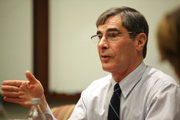 "Being a judge requires so much more than a strong intellect and mastery of the law," Fogel said. "It requires a deep understanding of the philosophy of judging, the human interests at stake, and our unique role in a democracy. To be a great judge requires a sense of both humility and wonder."
Judges as leaders
In addition to encouraging judges to reconnect with that sense, Fogel noted, the seminar also will focus on "the role of the judge as a leader," and will offer substantive training on the "sources of complexity that make judging in the 21st century uniquely challenging," such as scientific complexity.
Research focus on judges and judging
For Dean Chris Guthrie, this unique collaboration solidifies Vanderbilt Law School's position as a center for the study of judges and judging.
With several scholars who research judicial decision making on its permanent law faculty, Vanderbilt Law School is home to the Branstetter Program in Litigation and Dispute Resolution; the American Judicature Society, a 100-year-old organization dedicated to protecting judicial integrity, which moved its headquarters to Nashville this past summer; and a unique Law and Neuroscience program, headed by Professor Owen Jones, which is partnering with the judiciary to provide training on law and the brain.
"On any given day at Vanderbilt Law School, we might have a state-court judge teaching Trial Advocacy, a federal judge leading an intensive short course or judging the Moot Court competition, or a visit from Supreme Court Justice Clarence Thomas," said Guthrie, citing the actual lineup for February and March alone.
"And on that same day, our faculty will be working on better understanding judges' emotions, observing their brain activity while in a scanner, analyzing their voting patterns, or examining different models for judicial selection and retention."
Given this strong academic focus on judging, Guthrie said, "we are thrilled that FJC has chosen Vanderbilt as its partner in this important new vehicle for supporting judicial excellence."
Theory and practice together
Maroney echoed the theme. "This collaboration brings theory and practice together," she said. "It's a space within which academics and judges will work together to help actual humans better meet a set of job expectations that can border on the superhuman."
The FJC is the education and research agency for the federal courts. Congress created the FJC in 1967 to promote improvements in judicial administration in the courts of the United States.
Terry Maroney specializes in the role of emotion in law, drawing heavily on interdisciplinary scholarship. Her current work examines the impact of emotion on judicial decision making.
---