New Housing Law Clinic to target pandemic eviction crisis
Oct 22, 2020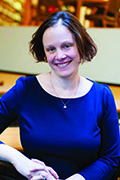 Professor Jennifer Prusak will launch a new Housing Law Clinic at Vanderbilt in spring 2021. Students in the clinic will work under her supervision to represent tenants facing eviction proceedings, advance Fair Housing Act claims on behalf of disabled clients, and advocate for affordable and accessible housing in Nashville. Prusak joined the law faculty at Vanderbilt in summer 2020 as an associate clinical professor of law.
"Housing is a critical issue in Nashville, and the Housing Law Clinic Jennifer Prusak is launching will provide an important service to clients of public and Section 8 housing as well as low-income and disabled clients renting from private landlords who are facing eviction," said Sue Kay '79, associate dean for experiential education. "I look forward to the contributions Jennifer and her students will make as advocates for fair and affordable housing."
After the COVID-19 outbreak, the Centers for Disease Control and Prevention implemented a temporary eviction moratorium. Prusak noted that the moratorium will lead to an increase in evictions throughout the country in the future and will impact the clinic's work. "Because of this expectation, I anticipate the new clinic will have a heavy focus on eviction prevention and projects that support Nashville's low-income tenant population in the spring 2021 semester," she said.
Prusak previously directed the Nonprofit Legal Clinic at the Indiana University Maurer School of Law, a transactional clinic which she created and managed for six years. While teaching on Maurer's clinical law faculty, she also supervised Maurer's Tenant Assistance Project, through which law students met with and counseled pro se tenants before and during their eviction hearings in Monroe County, Indiana.
Before joining the clinical law faculty at Maurer, Prusak was a staff attorney and an Equal Justice Works AmeriCorps Legal Fellow at Indiana Legal Services, where she worked with local nonprofit agencies on projects aimed at preventing homelessness and defended eviction actions brought against tenants of public housing and Section 8 apartments and those renting from private landlords in Southern Indiana courts.
---