Noted civil rights lawyer George E. Barrett, Class of 1957, dead at 86
Aug 27, 2014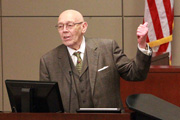 George Barrett, Class of 1957, the indefatigable Nashville civil rights lawyer who called himself "The Citizen," has died at 86. The cause of death was acute pancreatitis. Barrett had continued his law practice until two weeks before his death August 26.
A founding partner of Barrett Johnson Martin and Garrison, Barrett worked full-time on behalf of voters, laborers, investors and other clients and groups until his final illness. "I didn't go to law school to be a corporate lawyer," he told countless audiences at talks and panel discussions that became part of his weekly routine later in life. "I went to law school to represent working people."
"George Barrett was a powerful voice for social justice, civil rights and civil liberties," said Chris Guthrie, dean of Vanderbilt Law School. "He was a role model for, and mentor to, generations of Vanderbilt Law students who sought to represent the underrepresented."
After graduating from Vanderbilt Law School in 1957, Barrett first joined the law firm of Cecil D. Branstetter '49, then a rising Southern labor lawyer. After establishing his own practice, Barrett was one of the first white Nashville attorneys to hire African American attorneys.
Proudly calling himself "Citizen Barrett," Barrett jumped into the civil rights movement, which by the late 1950s and early 1960s was making its impact felt at lunch counters and department stores in downtown Nashville, from the beginning of his career. He was an unapologetic crusader for equal rights, a reputation he maintained throughout his career. He built a busy law practice representing unions in benefit and pension litigation along with a steady stream of civil rights, discrimination and class-action plaintiffs, even once representing the Ku Klux Klan in a First Amendment case.
"I've never been part of the establishment," Barrett told interviewer John Spragens '12 for a 2012 Vanderbilt Lawyer story, "but if you live long enough, you become the respected eccentric."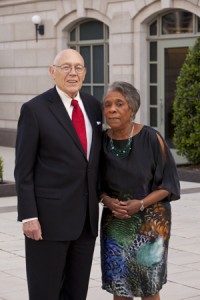 In 1968, his drive for justice led him to file one of his biggest cases, Geier v. Tennessee, which resulted in the desegregation of Tennessee's state universities. That year, Ruth Robinson Cooper '68, who worked for Barrett as a summer associate during law school, urged her Vanderbilt classmate Rita Geier '70 to discuss with Barrett her concerns about the inequities between white state universities and Tennessee State University, where Geier taught part-time while in law school. Barrett and Geier developed a novel legal theory: Under Title VI of the Civil Rights Act of 1964, the state not only had an obligation to end de jure segregation; it also had an affirmative duty to end de facto segregation. The ensuing court battle lasted 38 years, spanned the tenure of seven governors and two federal judges, reshaped Tennessee's university system, and set the benchmark for reforms across the South that supported equal access to higher education resources. "When George took on something, he was a gladiator, a warrior with an indomitable spirit," Geier said.
When the Geier case stalled in 1999, Barrett called his friend Justin Wilson '70, then deputy to Governor Don Sundquist. Over lunch, Barrett and Wilson hammered out a settlement for the lawsuit to which Sundquist agreed. Carlos González '89 was then appointed to mediate a final consent decree and supervise its implementation. The case was dismissed with prejudice in 2006 after the reforms were completed to the court's satisfaction. "You either loved George or you detested him," said González, who professes tremendous admiration for Barrett. "But no one was ambivalent about him, and I think that's the best thing you can say about anyone."
Barrett and Geier received the law school's Distinguished Service Award in 2012.
In a statement, Nashville Mayor Karl Dean '81 said: "George Barrett was larger than life and always willing to take up an unpopular cause if he felt it was the right thing to do. He was a social justice champion and was certainly on the right side of history as an attorney advocate during the civil rights movement. He was rightfully and affectionately known as Citizen Barrett. He was beloved by many friends and respected by his adversaries. He will be deeply missed."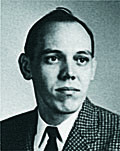 A lifetime Nashvillian, Barrett attended Catholic high school and earned his B.S.S. at Spring Hill College in 1952 and a diploma in economics and politics from Oxford University in England before earning his law degree at Vanderbilt. Raised in a staunchly pro-union household, Barrett cherished an abiding sense of justice and his Catholic faith; he was a fixture in the back pew of the Cathedral of the Incarnation every week.
Barrett is survived by three daughters, Mary Barrett Brewer '86 and Kathryn Barrett Cain of Nashville and Lucy Barrett Thomason of Watertown, Tennessee; 11 grandchildren; and a sister, Sister Mary George Barrett O.P., a Dominican nun, also of Nashville.
A funeral mass will be held at Cathedral of the Incarnation at 11 a.m. on Saturday, August 30.
---