Perry Brandt '77 (BA'74) and Kito Huggins '99 (BA'96) appointed to Vanderbilt University's Board of Trust
Apr 23, 2018
Adolpho Birch III '91, who has served the Board of Trust since 2014, was named to a three-year term as secretary.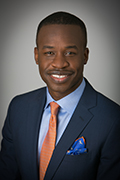 Huggins, of New York City, was the first student in the College Posse Scholarship Program to earn a law degree. He is director of executive administration at Weil Gotshal and Manges in New York, where he spearheads the firm's global alumni program and career exploration and transition assistance for associates and alumni. He has also held roles with FutureWork Institute, Lehman Brothers, MetLife and Shearman & Sterling. After earning his law degree, he clerked for Judge U.W. Clemon of the U.S. District Court for the Northern District of Alabama. As a student at Vanderbilt, Huggins was president of Vanderbilt Student Government. He is a member of Chancellor Nicholas S. Zeppos's 'Dores of Distinction and an active supporter in numerous alumni activities, including Reunion. He earned a bachelor's in secondary education in 1996 before earning his law degree.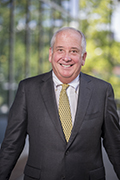 Brandt is managing partner of Bryan Cave in Kansas City, Missouri, where he leads initiatives focused on strategic growth, marketing, diversity and professional development. An experienced trial litigator, Brandt counsels boards of directors, management teams and legal departments on litigation, business and regulatory matters, and risk avoidance. Brandt has served as president of the Vanderbilt University Alumni Association since 2016. An active alumnus, he led the Kansas City Alumni Chapter and served on the Law Alumni Board Board of Advisors and the fundraising and attendance committees for his 35th reunion in 2009. He and his wife, Liz, frequently host the Kansas City Summer Send-off parties and support the National Commodore Club and the law school. Brandt earned a bachelor's in political science at Vanderbilt in 1974 before earning his law degree. He and his wife are the parents of Vanderbilt alumna Elizabeth "Betsy" Brandt, BA'13.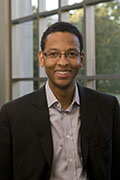 Birch was elected to the Vanderbilt Board of Trust in 2014. He is senior vice president of labor policy and league affairs for the National Football League, headquartered in New York, where he oversees the development, administration and enforcement of the League's critical policies respecting the integrity of the game, including those on substances of abuse, performance-enhancing drugs, gambling and criminal misconduct. Birch also has advanced the NFL's legislative and political interests, working with federal, state and local officials on league issues such as youth concussion laws, the league's tax status and the FCC's blackout rule. Prior to joining the NFL, Birch was in private practice in Houston, Texas. He began his legal career as a law clerk to Judge Thomas A. Wiseman Jr. '54 of the U.S. District Court for the Middle District of Tennessee. A Nashville native, Birch attended Vanderbilt University Law School as a Patricia Roberts Harris Scholar.
Four members of the Vanderbilt University Board of Trust are law graduates. In addition to Birch, Brandt and Huggins join Kathleen E. Justice-Moore '91, who also serves as a trustee of the Gordon and Betty Moore Foundation and of the Ocean Conservancy, on the university's Board of Trust.
---