Providing advice and counsel to Tennessee's essential workers during COVID-19
Oct 22, 2020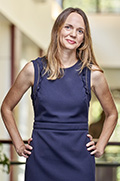 In the summer of 2020, Assistant Dean for Public Interest Spring Miller launched a workers' rights initiative in conjunction with the Tennessee Alliance for Legal Services in response to the access to justice crisis for vulnerable Tennessee workers precipitated by the pandemic. This fall, six students are enrolled in the Worker Advocacy Practicum that grew out of the initiative. The project comes at a critical moment when low wage workers are keeping our country running and are disproportionately impacted by COVID-19. Nationwide and locally, statistics have shown that Latinx and African American workers have been disproportionately impacted by the pandemic.
During the pandemic, many low-wage workers do not have access to attorneys to help them in navigating loss of their jobs and advocating for safe working conditions and are at a deficit in addressing workplace harassment and discrimination. The practicum fills a gap within Tennessee where there historically have been few legal resources available to low-wage workers.
In recognition for her work on the project, Dean Miller received the 2020 B. Riney Green Access to Justice Award from TALS. This award recognizes attorneys who promote statewide collaboration among legal advocacy organizations and attorneys on projects that strengthen access to justice. In introducing Dean Miller, public activist Rashad Rayford said, "Spring identifies a problem and then takes the necessary action."
Through the practicum, law students under her supervision are providing advice and counsel to low-wage workers who contact TALS' statewide legal helpline on a variety of matters, including employment discrimination claims, unemployment benefits, workers' compensation, and family/medical leave protections. Further, students in the practicum are collaborating with community partners such as Workers' Dignity and the Tennessee Immigrant and Refugee Rights Coalition on developing workplace-related know-your-rights materials and on addressing statewide language access issues for low-wage workers seeking employment-related services from state agencies.
---