Public Interest Law conference addresses reform prosecutors, bail reform, access to justice and economic justice
Nov 6, 2018
A broad array of innovative social justice topics and initiatives, including reform prosecutors, bail reform initiatives, access to justice for immigrants in detention, and programs aimed at overcoming barriers to wealth creation, were addressed at the Practicing Public Interest Law in the South Conference at Vanderbilt Law School Oct. 19 and 20.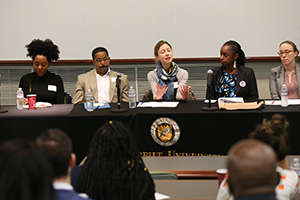 The conference was hosted by the George Barrett Social Justice Program, which is directed by Daniel J. Sharfstein, who holds the Tarkington Chair of Teaching Excellence. "Our purpose is to bring together lawyers pursuing innovative litigation strategies addressing prevalent social justice issues in the South with legal academics writing on related topics, with the hope that each group's work will inform the other's and lasting collaborations may be formed," Sharfstein said.
Scott Colom, district attorney for the Sixteenth Circuit Court of Mississippi, kicked off the conference by engaging in a keynote conversation on Friday night with Josie Duffy Rice, a Harvard-educated lawyer who is a senior reporter for The Appeal, where she covers prosecutors, prisons and other criminal justice issues. Professor Terry Maroney, who teaches a course on wrongful conviction, moderated the conversation. Colom began his legal career as a Skadden Fellow at the Mississippi Center for Justice. He ran for the elected office of prosecutor in his hometown of Columbus, Mississippi, after working at the Colom Law Firm and serving as an appointed interim Justice Court Judge for Lowndes County and appointed municipal court judge in Aberdeen. Using the slogan "Tough, Smart, Fair," Colom defeated his opponent, who had been voted into office six times over 25 years, by pledging to lock fewer people up, stop treating drug addiction as a crime, and expanding drug rehabilitation services in the country. He and Rice, who is also a senior strategist for The Justice Collaborative, discussed how prosecutors can use their power to determine whom to charge, what charges to bring, how to engage in plea negotiations, and how much prison time to recommend to help rehabilitate people who have committed minor crimes. "Prisons do not rehabilitate people," Colom said.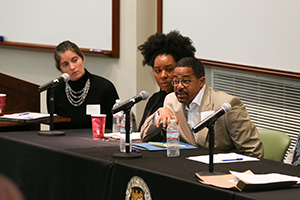 The conference continued on Saturday morning with legal historian Sara Mayeux moderating a panel on bail reform that included Rahim Buford of the Nashville Community Bail Fund, which provides financial support to individuals who cannot afford to post bail; Avlana Eisenberg of Florida State University College of Law, who studies criminal punishment; Arissa Hall of National Bail Out, which advocates for an end to money bail and providing bail funding; Atteeyah Hollie of Southern Center for Human Rights, who has litigated cases challenging wealth-based detention; Sandra Mayson of University of Georgia School of Law, whose scholarship focuses on risk assessment and preventive restraint in the criminal justice system; and Jocelyn Simonson of Brooklyn Law School, whose scholarship addresses public participation in criminal justice processes.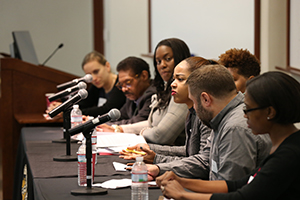 Lauren Rogal, who teaches Vanderbilt's Community Enterprise Clinic, moderated a discussion of "Economic Justice and Barriers to Entrepreneurship and Wealth Creation in Underserved Communities" that included Clark Arrington, general counsel of The Working World, which finances businesses in low-income communities; Teia Evans, associate director of Carolina Common Enterprise, which assists individuals and communities in creating and improving cooperative enterprises; Michael Haber, who directs the Community and Economic Development Clinic at the Maurice A. Deane School of Law at Hofstra University; Renee Hatcher, who directs the Business Enterprise Law Clinic at John Marshall Law School; Lynnise Pantin, who directs the Entrepreneurship and Innovation Clinic at Boston College Law School; and Monica Rainge, director of land retention and advocacy at the Federation of Southern Cooperatives Land Assistance Fund, which assists low-income farmers in land retention and development.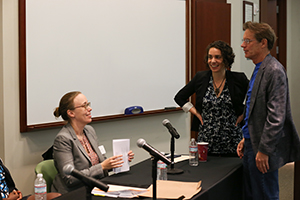 Karla McKanders, who launched and directs Vanderbilt's Immigration Practice Clinic, moderated a discussion of "Access to Justice for Immigration Detainees" featuring Lenni Benson of New York Law School, who directs the NYLS Safe Passage Project, which recruits and trains lawyers to represent immigrant youth; Anjali Nair of Southeast Immigrant Freedom Initiative of the Southern Poverty Law Center, which represents immigrant detainees imprisoned in for-profit detection facilities in Georgia and Louisiana; Mariela Olivares, director of the Family Law Certificate Program at Howard University School of Law, whose recent scholarship addresses the corporatization of mass immigrant detention; Judge Charles Pazar, a retired federal Immigration Court judge who teaches at the Cecil C. Humphreys School of Law at the University of Memphis; Swapna Reddy, who heads the Asylum Seeker Advocacy Project at the Urban Justice Center; and Rebecca Sharpless, who directs the Immigration Clinic at the University of Miami School of Law. Panelists described issues ranging from immigrant detention centers that made it difficult for attorneys to meet with clients, immigrants detained in inhumane conditions with no access to healthcare, inaccessible facilities located hours from major cities, immigrants deported by plane in shackles with no access to food or bathroom facilities, and young children appearing in immigration court unaccompanied by a parent or guardian and lacking legal representation.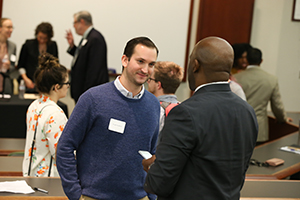 "We are thrilled that our students had the opportunity to learn from and be inspired by the remarkable participants in this conference," said Assistant Dean for Public Interest Spring Miller.  "Public interest lawyers can play a vital role in supporting movements for social justice in the south, and we look forward to continuing to facilitate connections between our Vanderbilt Law community and social justice organizations like the ones represented at this event."
The conference closed with a collective discussion.
---