Ramon Ryan '21 named to 2021 Law Program of the Fellowships at Auschwitz for the Study of Professional Ethics
Aug 24, 2021
Ramon Ryan '21 is one of 16 law graduates chosen for the 2021 Law Program of the Fellowships at Auschwitz for the Study of Professional Ethics.
Now in its eleventh year of operation, FASPE provides a unique historical lens to engage early-career professionals and graduate students in the fields of law, business, journalism, medicine and seminary in an intensive course of study focused on contemporary ethical issues in their professions.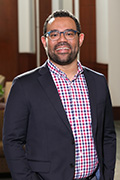 The FASPE Law Program provides a holistic curriculum that looks beyond the specifics of formal rules to focus on ethical problems faced by individual lawyers in the various settings in which they practice. Fellows typically participate in a two-week program in Germany and Poland, which uses the conduct of lawyers in Nazi-occupied Europe as a way to reflect on legal ethics today.
Ryan is an incoming associate at Bass Berry & Sims in Nashville. He will serve as a law clerk to Judge Todd Hughes of the U.S. Court of Appeals for the Federal Circuit starting in 2023.
At Vanderbilt Law School, Ryan was editor-in-chief of the Vanderbilt Journal of Entertainment and Technology Law and a 2019-20 Cal Turner Program for Moral Leadership Fellow. His JETLaw Note, "The Fault in Our Stars: Challenging the FCC's Treatment of Commercial Satellites as Categorically Excluded from Review under the National Environmental Policy Act," prompted legislation aimed at establishing NEPA review for commercial satellite launches.
Before earning his J.D., Ryan worked in the U.S. Holocaust Memorial Museum's education department and as a paralegal, a flight attendant and a union organizer for the American Federation of State, County and Municipal Employees.
Ryan joins a diverse group of 70 FASPE fellows across all five programs who were chosen through a competitive process that drew applicants from across the U.S. and the world.
"By educating students about the causes of the Holocaust and the power of their chosen professions, FASPE seeks to instill a sense of professional responsibility for the ethical and moral choices that the Fellows will make in their careers and in their professional relationships," said David Goldman, FASPE's founder and chairman.
The 2021 FASPE Law Program is led by Jeff Ward, associate dean for technology and innovation and clinical professor of law at Duke Law School, and Eric Muller, Dan K. Moore Distinguished Professor of Law in Jurisprudence and Ethics at the University of North Carolina.
---
Alumni Equity, Diversity and Community General News International Legal Studies Program