Vanderbilt Law School announces new endowed faculty research fund
Nov 24, 2013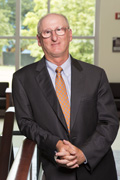 Vanderbilt Law School has received a major endowment gift to establish a new fund, the Enterprise Faculty Fund, to promote the career development of promising young scholars.
The Enterprise Faculty Fund was created through a gift from Robert S. Reder '78, a retired partner of Milbank Tweed Hadley & McCloy who teaches courses in Vanderbilt's Law & Business Program as a professor of the practice of law, and announced by Chris Guthrie, dean of Vanderbilt Law School.
"A world class law school is built upon its faculty," Dean Chris Guthrie said. "This fund is the first of its kind at the law school, and I'm excited that Bob Reder, who joined our faculty this year, has chosen to invest in our faculty in this important way. Bob's generosity in establishing this fund fulfills a critical need and positions the law school for continued success. By supporting the work of rising scholars here at Vanderbilt, the Enterprise Fund will drive innovation and enable the law school to attract and retain top scholars and teachers."
Reder practiced in Milbank Tweed's mergers and acquisitions and corporate groups from 1978, when he joined the firm after graduating from law school, until his retirement in 2011. He was co-leader of the firm's global corporate practice group from 2005-09. Reder joined Vanderbilt's permanent Law & Business faculty as a professor of the practice of law in 2013, after teaching short courses in structuring M&A transactions as a member of Vanderbilt's adjunct law faculty. During fall 2013, he is teaching two courses, Advising Corporate Directors and Negotiated Public M&A.
"I feel very fortunate to have attended Vanderbilt Law and to be in a position to make this gift," Reder said. "From my new vantage point as a member of the faculty, it's clear to me how terrific our professors are. Thus, I am extremely pleased to be able to support the work of younger members of the faculty."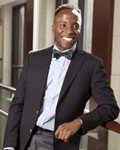 Sean Seymore, professor of law and professor of chemistry and a member of the Vanderbilt Intellectual Property Program, has been named the inaugural Enterprise Scholar. Seymore, whose research focuses on patent law, will hold the title of Enterprise Scholar for a two-year term. In addition to his research and teaching, Seymore also serves as the faculty adviser to the Vanderbilt Law Review.
"It's an honor to be named the first Enterprise Scholar, and I'm deeply grateful to my colleague Bob Reder for endowing this fund," Seymore said. He will use the funds to support his ongoing research on patent law's disclosure function and how patent law should adapt to accommodate advances in science and technology.
---