Rick Engle '81: Descended from giants, determined to stay small
After learning the toy trade at his family's company, Hasbro, Rick Engle '81 teamed up with his brother at Little Kids Inc.
By Mark Obbie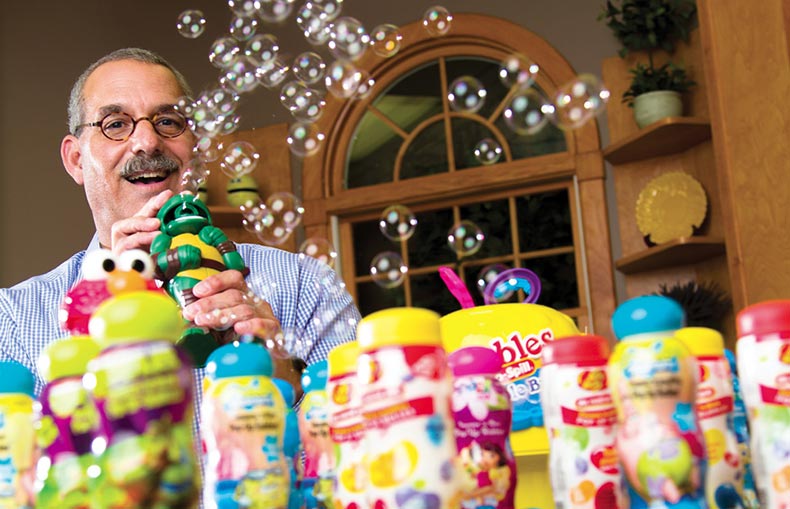 As a Vanderbilt undergrad and law student, Rick Engle '81 (BA'77) had a luxury that any career-anxious student would envy: a job practically waiting for him in a successful family business.  "My grandfather started a little company called Hasbro," Engle acknowledged.
Growing up, Engle recalled that his father, uncle, older brother, cousins—just about everyone in the family—worked for the toy-industry giant. Engle grew up tagging along with his father on visits to the office and working summers at the company before law school. Then Engle turned his back on all that. While he has indeed made his career in a family-owned toy business, he got to where he is now, more than 30 years later, via an original route, flying the flag of an independent all the way.
At first, Engle put his shiny new law degree to use. After graduating in 1981, he spent two years as the junior lawyer in a small Nashville firm. "It just wasn't my thing," he admitted.
So Engle headed home to New England for a job at what was then Fleet National Bank in Providence. His duties combined law and business in the bank's workout group, helping struggling businesses get back on their feet. After four years, he took a bigger step away from law, joining Fleet's money management team. After that point, Engle's career destiny came full circle—almost. Engle's older brother Jim had left Hasbro to form Little Kids Inc., a toy industry startup. Engle decided to join the new company as its third employee. "I joke that my mother forced my brother to hire me," he said. "But, in reality, my brother is a sales and marketing person, the other person that founded the company was more of an engineer type, and they didn't have an operations person. I wasn't one at the time, but by default I became one."
Engle quickly found that his bank-workout experience came in handy. So did having young children, as he and Jim did at the time, providing a built-in product-testing team. Throughout the 1990s, the brothers and their growing company embarked on a journey of expansion and innovation. Their big breakthrough came when an early product, a drinking cup designed not to spill, sparked a new idea. A friend from Hasbro pointed out that parents often wish their children could handle another sort of container without spilling: bubbles. The result was the No-Spill Bubble Tumbler, which spawned a full line of similar Little Kids products. "We're known," Engle said proudly, "as the no-spill bubble company."
Even though it targets kids ages 3 to 7, Little Kids is not averse to working with big companies. Its licensing deals tie its products to such brands as Nickelodeon, Teenage Mutant Ninja Turtles, Dora the Explorer, Jelly Belly and SpongeBob SquarePants.
But Little Kids, based near Providence in Seekonk, Massachusetts, has remained separate from nearby Hasbro and resolutely small. Its permanent workforce numbers just over three dozen people. "We wanted to do our own thing, forge our own identities and create something of our own," said Engle, now 59 and the company's executive vice president overseeing manufacturing, quality control, distribution, and back-office operations.
Engle's law background puts him in the crosshairs whenever a legal question about a contract, a patent or a dispute arises. But most matters are handled by outside counsel. "I have a good idea of what I know and don't know," he said. His days at Vanderbilt taught him something valuable and lasting. "I still think law is a great trainer of the mind," Engle said. "Businesses—especially start-ups—need analytical people who can look at a problem and see various issues from all different sides."
Engle and his colleagues treasure the advantages an independent, niche company has over a giant like Hasbro, including the ability to move more nimbly. Although the work focuses on toys and young kids, it's still work. "There are good days and bad days, but we have control over our lives," Engle said. "That's pretty important to us."
---