Robin Frazer and Kendra Key win 2014 Bass Berry & Sims Moot Court competition
Mar 14, 2014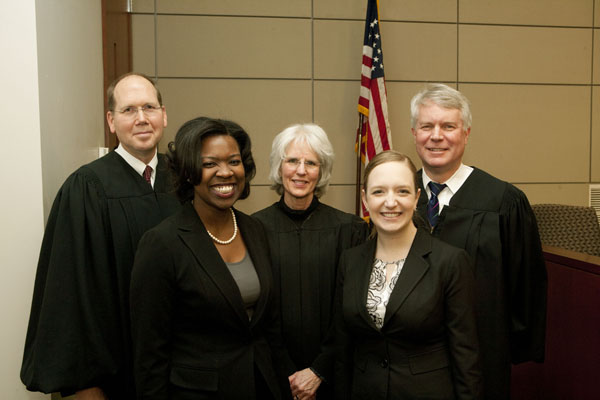 The team of Robin Frazer and Kendra Key won Vanderbilt Law School's 2013-14 Bass Berry & Sims Moot Court competition.
Key also received the Richard Nagareda Award for Best Oralist. The award honors the late Professor Richard Nagareda, the first director of Vanderbilt's Branstetter Litigation and Dispute Resolution Program, who died in 2010.
The team of Sean Hastings and Kimberly Ingram received the award for Best Brief.
Frazer and Key competed against finalists Lara Assaf and Elizabeth Mulkey in the competition's final round January 29. Judges Kent Jordan of the Third Circuit Court of Appeals, Jane Stranch of the Sixth Circuit and David Hamilton of the Seventh Circuit presided over the Moot Court finals in Flynn Auditorium.
Each year's Moot Court problem requires students to address a First Amendment issue. Teams competing in the 2013­-14 Moot Court competition addressed a particularly timely question: whether a prohibition on personal campaign solicitations by candidates running for seats on state courts violates the Free Speech Clause of the First Amendment.
Approximately 87 percent of state judges are now subject to popular election, and all states have enacted codes to ensure judicial independence. These codes promote two related governmental interests: actual impartiality and the appearance of impartiality.
In the past 20 years, judicial candidates have been challenging these restrictions as violations of the Free Speech Clause. This year's Moot Court problem focused specifically on solicitation clauses, rules that limit the ways judicial candidate can seek money for their campaigns. The Moot Court problem editors chose solicitation clauses because appellate courts have been divided over the issue of whether codes restricting campaign contributions to state judicial candidates are subject to review under strict scrutiny or to the less rigorous standard of intermediate of "closely drawn" scrutiny.
Teams in this year's Moot Court competition were asked to argue a case in which a judicial candidate challenges, on First Amendment grounds, a solicitation rule that limits personal campaign solicitations to audiences of 20 or more, with the money flowing only through a campaign committee. The rule's validity hinges on the standard of review the Court applies. Teams were required to argue whether the solicitation canon serves a sufficient government interest.
Sixty-six teams from the Class of 2015 entered this year's competition, which began last fall. As members of the winning team, Frazier and Key each received the John A. Cortner Moot Court Award, a cash award that honors John Cortner '85, who served as Chief Justice of the Vanderbilt Moot Court Board in 1984-85. Cortner was diagnosed with Hodgkin's Disease after accepting a position with Bogle & Gates in Seattle and died of the disease within a year.
As 2014 finalists, Assaf and Mulkey each received the Judge Albert C. Hunt National Moot Court Team Award, a cash award that honors the memory of Judge Alfred C. Hunt '09, a former justice of the Supreme Court of Oklahoma.
---