Sara Finley '85 begins two-year term as Board of Advisors president
A former Patrick Wilson Scholar, Finley has established the Sara J. Finley Law and Business Scholarship for students seeking careers in corporate law.
By Seth Robertson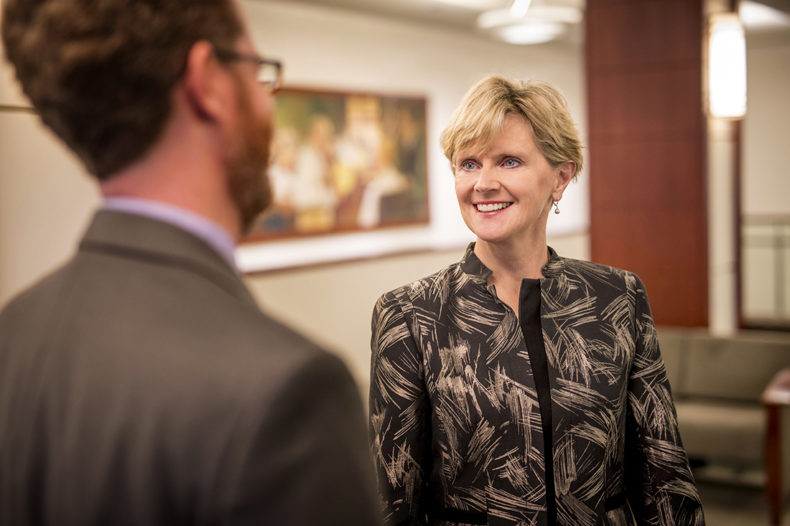 Sara Finley had every reason to feel optimistic about her future in fall 1982. She had just started law school at Vanderbilt, having graduated Phi Beta Kappa from the University of Alabama the previous spring. She entered VLS as a Patrick Wilson Scholar, having won one of the law school's most competitive scholarships. But Finley remembers feelings of self-doubt during her first semester.
"It was very intimidating," she said. "Here I was, sitting in those classes surrounded by Ivy League graduates who were eager to be called upon by the professors. I really questioned whether I could compete and if law school was the best fit for me."
Anyone familiar with Finley's legal career might be surprised to learn she ever suffered such a crisis of confidence. After earning her law degree in 1985, she initially joined Maynard Cooper & Gale in Birmingham, Alabama, and later became a partner at Kutak Rock in Atlanta. In 1993, she joined Flexel, a manufacturing company, as general counsel. Two years later, she returned to her hometown of Birmingham, to join the legal department of physician practice management firm MedPartners.
Finley helped the company navigate some challenging business setbacks, after which MedPartners changed its core business to prescription benefit management and its name to Caremark Rx. She then led the company's legal efforts as it first acquired a major competitor and subsequently merged with drugstore giant CVS Pharmacy.  She later became senior vice president and general counsel of the combined CVS Caremark enterprise.
But Finley believes she might not have been as successful had she not initially confronted those feelings of doubt.
"The experience of trying to overcome that intimidation I felt as a 22-year-old in law school really motivated me," she said. "I came to realize that being an effective lawyer isn't based on where you went to school as an undergraduate or how much you spoke up in class. It's about the diligence you show in your work and the relationships you build along the way."
Finley, who now lives in Nashville, retired from her position with CVS Caremark in 2015, but she continues to place a premium on hard work and building relationships. She formed her own boutique consulting firm, Threshold Corporate Consulting, and serves on the boards of two private companies, including Studio Bank, a Nashville-based bank still in its organizational phase. She is also active in the community  and serves on the law school's Board of Advisors. This spring she succeeds Weldon Wilson '86 as the board's president.
"The Board of Advisors is a great way to meet and connect with other Vanderbilt Law alumni, and I'm excited that I'll get to continue developing those relationships as president," she said.
One aspect of the board's work that Finley finds particularly gratifying is the opportunity to offer guidance on critical issues facing the law school, including the challenges posed by the sweeping changes occurring throughout the legal industry. Having worked both as a law firm partner and an in-house counsel, Finley has a broad perspective on the legal marketplace and understands that legal education must evolve to continue to prepare graduates to launch successful careers and thrive.
"When I came out of law school, the designed path was to join a law firm. It was a pretty straightforward choice," she explained. "But law firm models have changed since the economic downturn, and so have the economies of clients. There has been a shift toward increasing internal legal resources and relying less on outside counsel. Dean Guthrie and the law school have done a great job of anticipating these changes by creating programs and courses that help prepare students for the new reality, but it's still a work in progress. There's a lot we as a board can do to help our graduates get hired and to make sure that Vanderbilt remains on the cutting edge of law school education."
Finley is leading by example. In 2015, she endowed the Sara J. Finley Law and Business Scholarship to help students seeking careers in corporate law, particularly those looking to serve as in-house counsel. Her idea for the scholarship was inspired in part by her experience as a Patrick Wilson Scholar. "The strengths of the Patrick Wilson program lay not just in the financial support provided, but also in the relationships developed with fellow scholars and with the selection committee," she said. "The scholarship I established is much more modest in scale, but I hope it accomplishes something similar by creating a community of scholars who stay connected with each other and with the school after they graduate. Ultimately, I'd like for the recipients to maintain their ties to Vanderbilt just like I did and support the university as well."
When Finley is not busy with her consulting business, her corporate board service or her work on behalf of the law school, chances are she is volunteering her time at one of several nonprofits. In addition to her work at Alive Hospice and the Nashville Food Project, Finley serves on the board of the Metropolitan Hospital Authority, to which she was appointed by Nashville Mayor Megan Barry (MBA'93). She also previously chaired the board of the Land Trust for Tennessee, which works to preserve the state's natural, scenic and historic landscapes.
"I got involved with nonprofits because I thought it was the right thing to do," she said. "But I soon found that they had a need for someone with my background, who could offer governance experience, business input and strategic planning. And that has made my work with them all the more rewarding."
Making meaningful connections with others—whether through her business roles or in her work at VLS and across the nonprofit world—is what drives Finley to stay active. She has also discovered that the different aspects of her life sometimes intersect in surprising ways. As a member of the 2016–17 class of Leadership Nashville, an organization that builds channels of communication between established leaders in the city and connects them with community issues, Finley rekindled her friendship with Jim Blumstein, University Professor of Constitutional Law and Health Law and Policy. Blumstein, who is a longtime consultant for Leadership Nashville, was one of the professors she found so intimidating as a Vanderbilt 1L.
"I've told Jim it sure is nice to go from being intimidated by him in my first year of law school to now sitting with him and talking about issues facing the Nashville community," she said. "It just goes to show you never know where life will lead you."
---
The Board of Advisors at a glance
"When alumni hear about the Board of Advisors, they sometimes think it's just a fundraising tool," incoming president Sara Finley '85 said. "That certainly is part of it, but the board does so much more. It really serves a more comprehensive function."
Among their responsibilities, board members:
support the school's academic programs by giving input on curriculum and, when possible, serve as adjunct faculty
provide counsel as the school's academic programs evolve
invest in the school financially and encourage other alumni and friends to do the same
reach out to prospective students with strong potential and share the Vanderbilt Law School experience to attract the brightest and most talented to Vanderbilt
mentor students and recent graduates
recruit and interview students for placement in careers in both the private and public sectors
The Board of Advisors meets twice a year—each fall during Reunion Weekend and each spring on the day of the annual Founders Circle Dinner, which honors donors. Members serve three-year terms, and a member of the most recent graduating class serves a one-year term. See a list of current members and learn more about the board.
---