Sean Seymore appointed to the National Institute of General Medical Sciences' Advisory Council
Jan 13, 2017
Sean Seymore, professor of law and professor of chemistry, has been appointed to the Advisory Council for the National Institutes of General Medical Sciences by U.S. Secretary of Health and Human Services Sylvia M. Burwell.  Professor Seymore will serve a four-year term ending December 31, 2020. He is one of 12 Advisory Council members.
NIGMS, which is part of the National Institutes of Health, supports research that increases our understanding of life processes and lays the foundation for advances in disease diagnosis, treatment, and prevention. Its Advisory Council, which meets three times per year, is composed of leaders in the biological and medical sciences, education, health care, and public affairs.
Council members provide the final level of peer review for NIGMS research and research training grants—a task that requires approving applications which are considered to have significant and substantial scientific merit.  The Advisory Council also advises and makes recommendations on policy and program development, program implementation, evaluation, and other matters of significance to NIGMS.
"Sean's background in patent law and expertise in chemistry make him a valuable resource to the Advisory Council of the National Institutes of General Medical Sciences, supporting the council's peer review and its advisory role on policy and program development," said Associate Dean for Academic Affairs Chris Serkin.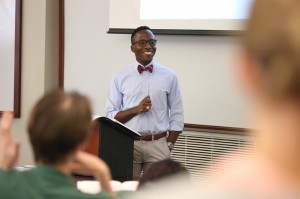 Seymore is a member of the first cohort of Chancellor's Faculty Fellows at Vanderbilt University, where his research focuses on how patent law should evolve in response to scientific advances and how the intersection of law and science should influence the formulation of public policy.
He joined Vanderbilt's law faculty in 2010, having previously taught at Washington & Lee University School of Law, where he was an assistant professor of law and earned the designations of Alumni Faculty Fellow and Huss Faculty Fellow for his scholarship and teaching. He was a visiting assistant professor at Northwestern University School of Law in 2007-08.
Before law school, Professor Seymore held academic appointments in chemistry at Rose-Hulman Institute of Technology and Rowan University and was a visiting scientist at Indiana University-Bloomington. After earning his law degree, he practiced patent law with Foley Hoag in Boston.
As an active member of the American Chemical Society, he served on the executive committee for the Division of Chemistry and the Law from 2009 to 2012, on the Committee on Patents and Related Matters from 2006-07 and on the Younger Chemists Committee from 2002 to 2006. In spring 2012, Professor Seymore was appointed to the Program in Science, Technology, and Society at the Massachusetts Institute of Technology as a Dr. Martin Luther King Jr. Visiting Associate Professor.   He is also an elected member of the American Law Institute.
---