Speaking of Alumni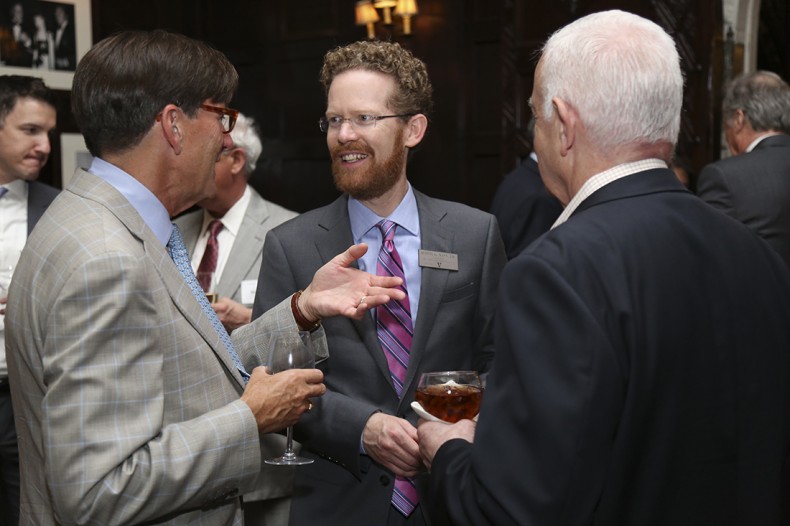 The tradition of Reunion at Vanderbilt is strong. Alumni and their guests are invited back to campus every five years, starting with the five-year Reunion, to celebrate their Vanderbilt experience, reconnect with classmates and enjoy each other's company. While the law school's participation in this tradition stretches back for generations, we have made a special effort in recent years to encourage even more law alumni to attend Reunion—and to establish giving as an important part of our Reunion culture. Our Reunion 2015, held last October, was a huge success on both counts.
We set an attendance record, thanks to the combined efforts of more than 500 alumni and guests representing the classes ending in 0 and 5—from the Class of 1965 to the Class of 2010. The festivities began Friday evening with more than 300 people attending our all-class cocktail reception on the law school's Main Street and Blackacre. After the Blackacre, several classes held their own off-campus gatherings while others enjoyed the university-wide Homecoming celebration on Alumni Lawn. Saturday morning, Dean Chris Guthrie hosted alumni and their guests at a family-friendly brunch at the law school, during which he gave an update on the law school and answered questions. Later that day, the Commodores beat the Missouri Tigers. Saturday night, alumni gathered at wonderful class parties hosted in classmates' homes, at restaurants and in private clubs all over Nashville.
The weekend would not have been possible without the hard work of our team of incredible Reunion volunteers. Seventy-three alumni across all classes helped organize events and then called, emailed and wrote their classmates, inviting them to attend Reunion and give generously. The results of their efforts were unprecedented. In addition to breaking our attendance record, the Reunion 2015 classes broke Reunion 2014's fundraising record of $2.7 million, making gifts and pledges totaling $3.755 million! We also are seeing a tradition emerging of a Reunion class coming together to establish a scholarship. This year, the Class of 1990 established VLS's third class scholarship, following in the footsteps of the Class of 1991 for their 20th Reunion in 2011, and repeated by the Class of 1994 in 2014. The generous gifts of the Class of 1990 easily cleared the $100,000 threshold required to name and endow a scholarship. We also had excellent overall participation, with 36 percent of Reunion class members making a gift, and several classes receiving big boosts from their leadership donors. These gifts will have both an immediate and long-term positive impact on the law school.
A Reunion of this magnitude is the result of months of careful planning and diligent work by our Development and Alumni Relations team, supported by the university's fundraising and alumni offices and the law school staff and faculty colleagues. Reunion attendees also had the pleasure of meeting our small army of student volunteers, whose hard work assured that all of our campus events and class parties went smoothly.
You won't be surprised to learn that our planning for next year's Reunion is already well underway. Reunion 2016, scheduled for October 20–22, will celebrate the classes of 1966, 1971, 1976, 1981, 1986, 1991, 1996, 2001, 2006 and 2011. If you'd like to volunteer for your class's Reunion committee, please contact Rachael Phillips, associate director of volunteer outreach, at (615) 322-0814 or rachael.l.phillips@vanderbilt.edu, or Eileen Cunningham, director of alumni relations and stewardship, at (615) 322-6157 or eileen.cunningham@vanderbilt.edu. We're all looking forward to helping the Reunion 2016 classes break more records!
I'm proud of the progress we've made in strengthening our Reunion program and gratified that so many of you join us for Reunion, reconnect with your classmates, meet some of our outstanding students and faculty, and support the law school with your gifts.
I also want to thank the many alumni and friends who contribute their time, talents and dollars each year to keep our law school strong. At press time, we had raised $6,543,317 toward our overall fundraising goal of $9.1 million for our 2016 fiscal year, which ends June 30, and $1,067,663 toward our Annual Fund goal of $1.53 million. With your help, we will continue to improve the law school's financial health and ensure that Dean Guthrie and our faculty can deliver an outstanding and affordable education to the next generation of Vanderbilt Law graduates.
Sincerely yours,
Scotty Mann
Associate Dean for Development and Alumni Relations
---