Stan Onyeador JD/MBA '17
Stan Onyeador enjoyed studying economics as a student at Vanderbilt University because "it's the analysis of society, human behavior and their pragmatic implications for our everyday lives." After earning his B.A., Onyeador joined Public Consulting Group, a firm that implemented technology systems to help school districts track and manage educational plans for students with special needs. He soon realized that, to achieve his goal of building an intellectually stimulating career that allowed him to have a more tangible impact on society, he wanted to earn both a J.D. and an M.B.A. "I definitely wanted to choose a law school at a university that also had a good business school," he said. Onyeador considered 15 law schools, but ultimately concluded that "Vanderbilt has the best of both worlds. I loved my undergraduate experience at Vanderbilt, so that also affected my decision to become a 'Triple-Dore.'"
Born in the United States after his family emigrated from Nigeria, Onyeador spent part of his childhood in Nigeria and Gambia before his family settled permanently in the Northeast when he was eight. He chose Vanderbilt for college in part because of the quality of the school and in part to experience life outside of the Northeast. "My family bounced between New Jersey and Long Island," he recalled. "Many get caught-up in that revolving door and never venture to other regions.  I recommend broadening your horizons."
Onyeador believes the classroom experience sets Vanderbilt Law School apart. "One big difference between undergrad and law school is that you can't simply read law textbooks and fully understand that area of law," he said. "The classroom experience is critical. You really need to be engaged, and you're much more intellectually stimulated in the classroom. After one semester, you see the world differently."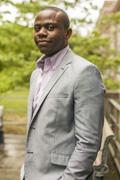 One aspect of the classroom experience that impressed Onyeador is the support students receive from faculty and their classmates. "The classroom experience is a testament to Vanderbilt Law School," he said. "Early on when we're all terrified, everybody is rooting for students who get called on in class. You build meaningful, supportive relationships with your classmates and professors here. Professors invest a lot of time and effort in their teaching, and it shows."
Onyeador is active in the Black Law Students Association, the Law and Business Society, the Phi Delta Phi Legal Honor Society and the Vanderbilt Bar Association, the administrative body that coordinates student organizations and activities. Despite a busy year, he still found time to organize students in his section to visit an elementary school and read to students. "The first year of law school is a grueling schedule," he said. "Visiting grade school students helps give you some perspective."
During the 2014-15 year, while he took classes toward his MBA at Owen, Onyeador's involvement in student organizations helped him stay engaged in the life of the law school. He served as vice president of the Law and Business Society, treasurer of the Black Law Students Association, and a 2L representative on the Vanderbilt Bar Association. "I started with the J.D. Class of 2016, but I'll graduate with the Class of 2017, so wanted to maintain my relationships with the law students I started with," he explained. He joined the staff of the Vanderbilt Law Review and is serving as its executive editor during 2016-17.
He focused on law courses in 2015-16 and will take a mix of law and business classes during his final year. "I'm focusing on finance and strategy, but I'm also getting exposure to leadership development skills," he said. "I think I'll be more well-rounded with both degrees."
Onyeador is working for Cravath Swaine & Moore in New York as a 2016 summer associate. In 2014, he worked at Orrick Herrington & Sutcliffe in New York, focusing on transactions, and he spent summer 2015 working for SunTrust Robinson Humphrey, the investment banking division of SunTrust Banks, in Atlanta.
---