"States of Union," book by Professor Mark Brandon, is finalist for 2014 Silver Gavel Award
Mar 18, 2014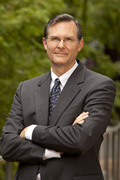 States of Union: Family and Change in the American Constitutional Order, a book by Professor Mark Brandon, has been named as a finalist for the American Bar Association's prestigious Silver Gavel Award for books.
The annual award recognizes outstanding work that fosters the American public's understanding of law and the legal system. The Silver Gavel Award is the ABA's highest honor in recognition of this purpose.
States of Union is one of five scholarly books named as a finalist for 2014 awards.
In States of Union, Brandon challenges proponents of "family values" who claim that family was undisturbed and unchanged until the latter half of the twentieth century. Instead, he shows how concepts of the family were changing long before then, in particular at the end of the nineteenth century in response to Mormon polygamy, communal experiments, Native American tribes, and households that settled the Western frontier.
"The finalists result from a rigorous review process by the ABA's Gavel Awards Screening Committee," said Cory M. Amron, chair of the 18-member Standing Committee on Gavel Awards, which selects award winners. "We commend all of these finalists for their efforts to advance public understanding of law and the justice system."
The ABA has presented these awards annually since 1958. Previous Silver Gavel winners include Alexander Bickel (The Morality of Consent, 1976), Archibald Cox (The Role of the Supreme Court in American Government, 1977), Raoul Berger (Government by Judiciary: The Transformation of the Fourteenth Amendment, 1978), A. Leon Higginbotham (In the Matter of Color: Race and the American Legal Process: The Colonial Period, 1979), G. Edward White (Earl Warren: A Life, 1983), Ronald Dworkin (Law's Empire, 1987), Lawrence Friedman (Crime and Punishment in American History, 1994), Akhil Reed Amar (America's Constitution: A Biography, 2006), and Jeffrey Toobin (The Nine: Inside the Secret World of the Supreme Court, 2008).
The winner will be announced on May 15.
---