Students to the Rescue
VLS students join a massive effort to support the appeals of thousands of low-income Kentuckians who lost their Social Security disability benefits due to attorney misconduct.
By Grace Renshaw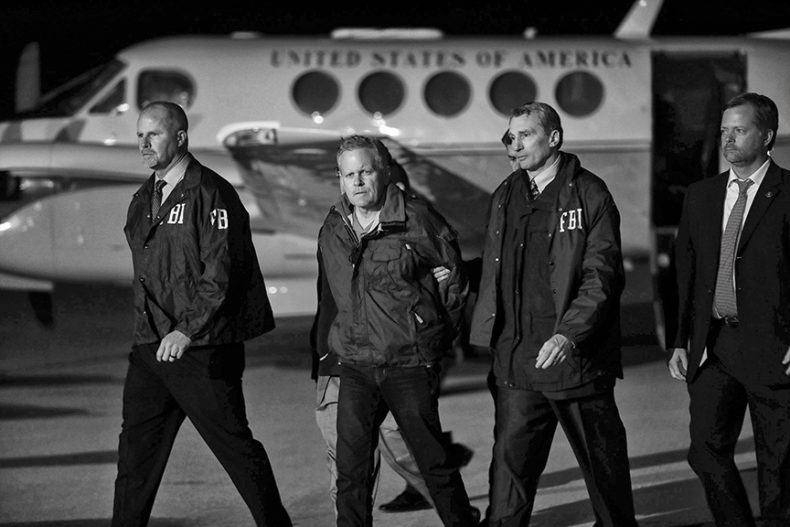 Kentucky attorney Ned Pillersdorf (BA'77) can barely contain his anger when he talks about Eric Conn, once considered one of the nation's top Social Security disability attorneys. Conn pleaded guilty in 2017 to bribing judges and submitting fabricated medical evidence to secure Social Security disability benefits for thousands of clients, but then fled to Honduras to avoid prison. He was captured and extradited in 2017 and ultimately sentenced to 27 years in federal prison after pleading guilty to additional charges related to his flight from justice. "John Grisham couldn't have come up with the plot of this fraud," Pillersdorf said.
Conn's was the largest Social Security fraud scheme in U.S. history. In addition to bribery payments to complicit judges, it involved doctors who signed falsified medical evaluations and more than $550 million in benefits to clients who were unaware the attorney representing them was committing fraud to get their benefits approved. Most of Conn's clients were residents of rural eastern Kentucky. Pillersdorf realized that many low-income, disabled Kentuckians who legitimately qualified for disability income would lose their benefits unless they filed successful appeals―and that few would be able to find or afford lawyers.
Legal representation in disability appeals is crucial. Pillersdorf found that only 20 percent of individuals who represent themselves are successful, compared to approximately 65 percent of those represented by attorneys. However, the research required to present a successful appeal in these cases involved a daunting task: reviewing literally thousands of pages of medical records recovered from Conn's law office.
Pillersdorf and his wife, former Kentucky Supreme Court Justice Janet Stumbo, began working with a team of volunteers that ultimately included dozens of attorneys throughout the nation willing to represent Conn's former clients pro bono. But, with approximately 3,600 potential clients whose benefits were revoked in the wake of the fraud, the team needed more volunteers to do the time-consuming work of sifting through each client's medical file to find facts supporting their disability claims that predated their representation by Conn.
Pillersdorf was elated when another attorney engaged in the massive pro bono initiative suggested, during a conference call, that law students could review the medical records. "It was brilliant!" Pillersdorf said. "Students could get real-world experience and help real people by preparing appeal memos, and we could use our volunteer attorneys to present the cases."
Samuel Lipshie '81 (BA'77), whose friendship with Pillersdorf dated back to when they were undergraduate classmates, helped connect Assistant Dean for Public Interest Spring Miller with Pillersdorf and Stumbo to organize a training for VLS student volunteers. Retired Clinical Professor of Law Alex Hurder, an expert in Social Security disability law, also provided training and guidance to students interested in helping to review client files.
This fall, 17 student volunteers reviewed 11 medical files and wrote comprehensive memos summarizing all of the medical evidence they could glean from the records that could support the clients' appeals. "We were each assigned one file because the files are huge," explained Anna Forrister '19, who is also pursuing a master's in public policy and plans to focus on disability law. Forrister and Kira Benton '21 both reviewed files of more than 500 pages. Shannon Vreeland '19 shared the work on her file, which numbered more than 1,000 pages, with another student.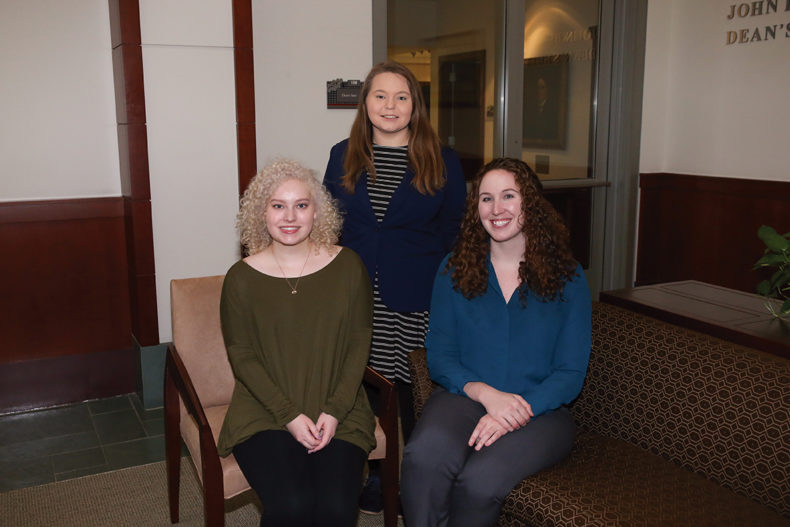 "Some cases involved people whose disability benefits had been granted by judges who had accepted bribes, and some involved reports signed by doctors who were paid to say the patient was disabled," Forrister said. "But many of the clients had legitimate claims of disability and were unaware of their attorney's fraud."
Forrister spent last summer working at the Tennessee Justice Center in Nashville on Medicaid cases, an experience that proved helpful in understanding some of the medical terminology. Vreeland and Benton found themselves deciphering various medical terms with the aid of Google and WebMD. "Our job was to identify evidence that the person qualified for disability benefits that was not tainted by the attorney's fraud," Benton explained.
Miller forwarded the memos compiled by the students to Pillersdorf so attorneys on his team could use them in appeals hearings.
Pillersdorf has high praise for the students' work. "Conn routinely did not submit relevant medical records on behalf of his clients because that cost $20 and he didn't want to spend the money, so many of these appeals involve medical evidence of disability that's being presented for the first time," he said. "The students did an incredible job of identifying potential new evidence and putting together these summaries."
The Social Security Administration's response to the fraud had initially forestalled the appeals of many former Conn clients. "The government revoked the benefits of hundreds of low-income individuals without due process," Miller said. "Many of them had legitimate disability claims, but few had been able to find lawyers to prove those claims."
More than 800 people lost their benefits as a result of the Social Security Administration's stance, according to Pillersdorf. "Lower court judges threw out all evidence from doctors connected with Conn and wouldn't allow his clients to challenge that decision because they were considered associated with the fraud," he said. "But not a single Conn client had actually met Mr. Conn."
Attorneys at the nonprofit Appalachian Citizens' Law Center successfully challenged this lower-court edict on behalf of Amy Jo Hicks and other victims of Conn's scheme. Hicks had not only lost her disability benefits, but the government also demanded she repay $62,000 that the Social Security Administration claimed it had illegally paid to her. In November, the Sixth Circuit Court of Appeals ruled in favor of Hicks and other plaintiffs, restoring their right to use any available medical evidence to support their appeals.
Another round of appeals will begin in 2019. Pillersdorf is excited about recruiting more Vanderbilt students whose legal research could support successful appeals.
---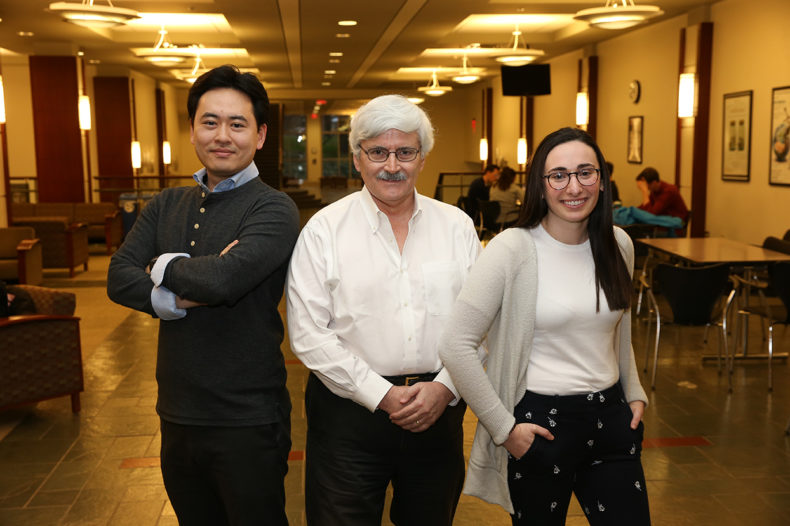 Kent Halkett '81 (center) is working with a team of law student volunteers to support patients at the Shade Tree Clinic, where students of Vanderbilt School of Medicine provide free care to uninsured patients, with legal needs assessment and referral services. The issues law students uncover in interviews with clinic patients can be particularly important, according to Emily Sachs '20 (right), who leads the law volunteer team, in circumstances where an issue with a legal remedy may be causing or exacerbating a patient's medical issues.
Assistant Dean for Public Interest Spring Miller and Sachs recruited Halkett, a retired trial lawyer, to accompany law students when they interview patients and facilitate client referrals and access to available legal services. As a licensed attorney, Halkett can also provide legal advice—something students cannot do. Volunteer Jin Yoshikawa '20 (left) says Halkett's presence at interviews with clinic patients has enabled volunteers to offer more substantive guidance. "As law students, we can only give legal information, not legal advice. But with Kent here, we have more flexibility," Yoshikawa said. "I wanted real-world experience, and at the clinic you meet people who are really different from yourself, interact and hear their stories and possibly help them in a safe environment."
After Halkett joined the team, he and Sachs organized a training session to teach student volunteers how to approach a broad range of issues they might uncover in interviews with clinic patients. Halkett meets volunteers at the clinic, where law students have helped clinic patients with issues involving Social Security benefits, regaining driving privileges and other issues under his supervision.
---