Sue Kay '79: A Pioneer in Clinical Legal Education
In 1980 Sue Kay was coming to the end of a one-year clerkship with Judge Jerry Scott of Tennessee's Court of Criminal Appeals when she heard that Vanderbilt was seeking a full-time clinical instructor. She immediately realized she had found her calling. "Clinical education was just starting, and I thought that working with students and teaching through practice would be a great way to spend your life," she said.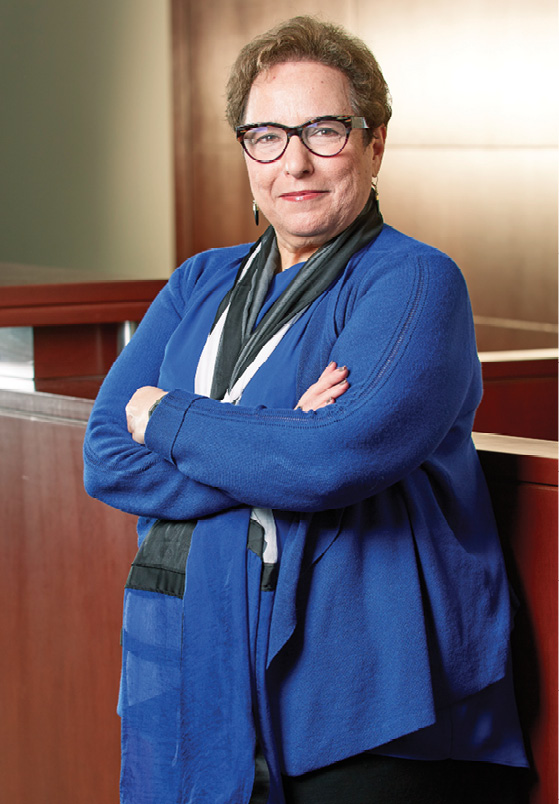 Kay had developed an interest in criminal law in her classes with the late Professor Don Hall. "Then I was told that women shouldn't go into criminal law—it was too messy and too difficult," Kay recalled. "That gave me the extra push I needed." She has spent the last 36 years teaching Vanderbilt's Criminal Practice clinic and became the program's associate dean in 2002 after serving as its assistant dean and a clinical professor of law. Along the way, she has also mentored countless students; worked with both adjunct and permanent clinical professors to develop an array of clinics and enhance Vanderbilt's trial advocacy program; taught Criminal Law, Evidence and Professional Responsibility; and been a tireless advocate for clinical legal education and criminal justice reform.
Kay currently serves on the Tennessee Supreme Court's Indigent Defense Task Force. Public defense is a hot and complex issue in Tennessee, where, she said, "There is concern from all quarters that indigent defendants are not always provided with competent and appropriately compensated counsel." She also serves on the Davidson County Domestic Violence Death Review Team. She is president of the board of the ACLU of Tennessee and has served on the board of the Legal Aid Society of Middle Tennessee and the Cumberlands for more than 16 years, including two as president. As a member of the ABA's Accreditation Committee, Kay is one of 19 committee members who determine whether each accredited law school is meeting each of the ABA's standards. She is also a past president of the Clinical Legal Education Association.
But her greatest pleasure is working with students in her Criminal Practice Clinic, where—under her tutelage—they learn effective advocacy skills through their representation of individuals charged with criminal offenses as well as through their work on significant public law litigation concerning jail overcrowding, inmates' rights and juvenile justice. Kay and three students conducted the litigation that found Davidson County's jails to be unconstitutionally overcrowded.
"Clinics bridge the gap between the actual practice of law and the doctrine and theory students study in other classes," Kay said. "They're integral to the learning experience, and both are essential. It's like learning to swim; you need somebody to teach you the mechanics of swimming before you enter the pool, and you also need someone to work with you once you jump into the pool."
Within the last two years, Kay has worked with Assistant Dean for Public Interest Spring Miller, Professor Terry Maroney and adjunct law professors Anne-Marie Moyes '02 and Anne Marie Farmer '03 to develop and launch three new clinical courses—the Immigrant Advocacy Practicum, the Actual Innocence Practicum and the Medical/Legal Partnership at the Nashville Veterans Administration Hospital. That brings the total number of clinical courses Vanderbilt offers to nine, including its International Law Practice Lab. VLS also uses clinical methodology in six intensive business simulation courses as well as courses honing other skills, such as information gathering, legal interviewing and counseling, trial advocacy and using technology in legal practice.
"We have outstanding theoretical classes that teach students to think like lawyers. But law exists and is practiced out in the real world," Kay said. "Our clinics allow students to learn law in the context in which it is practiced—to use skills, substance and procedure and to understand how they interact. The students then have the opportunity to apply this understanding to a real problem and help a client."
---