Susanna Rychlak '17
Susanna Rychlak grew up with the law. Her father, Ron Rychlak '83, is a law professor at the University of Mississippi, where Susanna earned her undergraduate degree as a Croft Institute Scholar. During undergrad she also worked at a law firm in Oxford, gaining exposure to litigation and real estate practice.
But she wasn't certain she would apply for law school until she spent the first semester of her senior year studying in Perugia, Italy. "I was in an Italian bookstore and saw an LSAT prep book," she said. "I took that as a sign."
Susanna took the LSAT in Italy and applied to a number of law schools. "I wanted to go to a smaller law school that had a national reach, so Vanderbilt quickly rose to the top of the list," she said. "The decision came down to size and culture."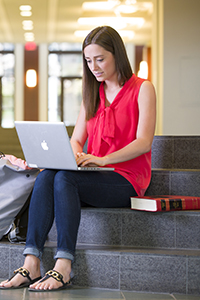 Her experience at Vanderbilt's Admitted Students Program was so positive that she joined the Ambassadors, a student organization that helps recruit prospective students, plan the Admitted Students Programs and host prospective students each year, as a 1L representative and then as president during her 2L year. She also joined the Entertainment and Sports Law Society, the Women Law Students Association and the Legal Aid Society.
During her 2L year, she joined the editorial staff of the Vanderbilt Law Review, serving as the journal's Editor in Chief in 2016-17. "Being a member of the Law Review was a fantastic experience," she said. "The opportunity to engage with scholarship and work together with my peers to publish the journal was challenging, but very rewarding."
During her first year, Susanna was surprised at how much she enjoyed her classes. "When you hear 'Civil Procedure' or 'Contracts,' you know the subject matter will be complicated, but you don't realize how interesting it can be learning the theories and nuance," she said.

"Vanderbilt professors are fantastic in the classroom. They're not hidden-away academics; they really want to teach."

As a 2L, she appreciated "the opportunity to really delve into the subject matter at a higher level," both as a research assistant for Professor Tracey George and in her classes. "I've really enjoyed taking upper-level courses from faculty members who research and publish in the subject area," she said. "I had Professor Kevin Stack for Administrative Law, and he taught us issues that are really at the forefront of the modern regulatory framework."

Susanna worked for two law firms—Sherrard & Roe in Nashville and Locke Lord in Houston—during summer 2015, and spent half of summer 2016 in Washington, D.C., with Williams & Connolly and half at Sherrard & Roe. She was a clerk for Judge Julia Smith Gibbons of the U.S. Court of Appeals for the Sixth Circuit in Memphis, Tennessee, during the 2017-18 term. Susanna is now an associate at Yetter Coleman LLP in Houston, Texas.
---