Tennessee Supreme Court Justice William C. Koch Jr. '72 announces retirement and appointment as dean of Nashville School of Law
Dec 19, 2013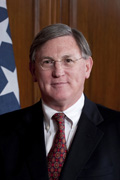 Justice William C. Koch Jr. '72 of the Tennessee Supreme Court has announced that he will retire from his judicial seat in summer 2014 to accept the deanship of the Nashville School of Law. Justice Koch will succeed current NSL Dean Joe C. Loser Jr.
Justice Koch was appointed to a seat on Tennessee's Supreme Court in 2007. He had previously served as a judge on the Tennessee Court of Appeals for 23 years, and was presiding judge of the Middle Section of the Court from 2003-07. He was named Tennessee Appellate Judge of the Year in 2002 and recognized among the 500 Leading Judges in America in 2006.
Before his appointment to the bench in 1984, Justice Koch served as counsel to Tennessee Governor Lamar Alexander and as Governor Alexander's commissioner of personnel. He also served as Tennessee's Deputy Attorney General. Justice Koch has taught at the Nashville School of Law since 1997 and has been honored as fourth-year "Instructor of the Year" three times. He has also taught on the adjunct law faculties of Vanderbilt and Belmont University.
"My service on the Supreme Court and Court of Appeals has been rewarding and meaningful, and I was looking forward to becoming Chief Justice next fall," Justice Koch said. "However, when the board of trustees approached me about succeeding Dean Loser, I quickly realized I could make no better use of my time and energies than by participating in the professional development of the women and men who desire to provide their fellow Tennesseans with excellent and affordable legal representation."
Justice Koch earned his undergraduate degree from Trinity College. In addition to his law degree from Vanderbilt, he holds an LL.M. from the University of Virginia Law School. He is a founding member of the Harry Phillips American Inn of Court and the Belmont College of Law American Inn of Court. He has also served on the board of trustees of the American Inns of Court Foundation and currently chairs the foundation's Leadership Council.
In announcing Justice Koch's appointment as dean of the Nashville School of Law, Thomas F. Cone, chairman of NSL's board of trustees, said, "Justice Koch is one of Tennessee's most thoughtful and committed judges, and his vast knowledge and experience assure a bright future for the Nashville School of Law."
Founded in 1911, the Nashville School of Law is a non-profit, independent institution offering a four-year, part-time program of legal education for working men and women. Classes are held exclusively at night, and the faculty consists of practicing attorneys and judges.
---