The interdisciplinary impact of Vanderbilt's Climate Change Research Network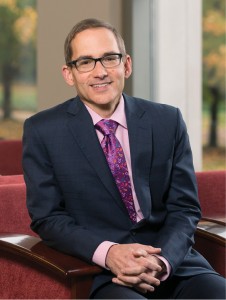 When I was considering accepting a faculty appointment at Vanderbilt 16 years ago, the law school's location on the Vanderbilt campus was a big point in its favor, because I knew VLS's on-campus location would facilitate productive interaction and collaboration with faculty colleagues in other schools, fields and departments.
As dean, I've had the pleasure of watching our faculty and students benefit from Vanderbilt's collaborative environment. Chancellor Nicholas S. Zeppos formally launched a $50 million Trans-institutional Programs initiative in 2014 to foster faculty collaboration on important questions and problems that lie at the intersection of various disciplines. But Vanderbilt has been actively promoting such interdisciplinary research for decades, including our popular Law & Business Program, which started in 2000; our Ph.D. in Law and Economics, which admitted its first students in 2007; a pioneering Law and Neuroscience research network that connects Vanderbilt with other leading universities; and many other successful programs.
This issue of Vanderbilt Law highlights the Climate Change Research Network, a trans-institutional program established more than a decade ago by Michael Vandenbergh, a David Daniels Allen Distinguished Professor of Law, in conjunction with W. Kip Viscusi, University Distinguised Professor of Law, Economics and Management; hydrologist David Furbish, professor of earth and environmental sciences, and David Kosson, Cornelius Vanderbilt Professor of Engineering. The CCRN connects faculty and students from all Vanderbilt schools and departments to identify the complex causes of climate change and address its effects. We also highlight our outstanding Energy, Environment and Land Use Program and a newly released book Professor Vandenbergh has co-authored with a CCRN colleague, Associate Professor of Earth and Environmental Sciences Jonathan Gilligan. In Beyond Politics: The Private Governance Response to Climate Change, Mike and Jonathan emphasize the importance of private-sector efforts to address the causes of climate change.
This semester we are also celebrating three faculty chair appointments: Daniel Gervais to a Milton R. Underwood Chair in Law, Joni Hersch to the Cornelius Vanderbilt Chair, and Kevin Stack to a Lee S. and Charles A. Speir Chair in Law. The Underwood and Speir chairs both illustrate the value of an investment in Vanderbilt law faculty. Both chairs were endowed decades ago, and thanks to growth in their endowments, we now have three Underwood Chairs and two Speir Chairs. I'm grateful for the university's tremendous stewardship—and for new chair endowments pledged this fall by Ted LaRoche '70, Bob Reder '78 and Hal Hess '90. Chairs are the pinnacle of an academic career and reward faculty for meaningful and productive work.
Sara Finley '85 begins a two-year term as president of our Board of Advisors in April. Sara has served for several years on our board, which supports the law school through gifts and by providing us guidance and feedback on our various programs and operations. She has also generously endowed a scholarship to support students who want to practice corporate law.
Finally, I think you'll enjoy our interview with Gerard Stranch '03, who served on the plaintiffs' committee for U.S. v. Volkswagen, which resulted in the largest settlement ever against an automobile manufacturer. Gerard is a loyal supporter of the law school. He spoke at VLS in spring 2017 to a standing-room-only crowd of students and has also taught here as a member of our adjunct faculty.
As always, it's a pleasure to be part of a school that boasts so many accomplished alumni, students and faculty. Thanks for supporting us now and in the future.
Sincere regards,
Chris Guthrie
Dean and John Wade-Kent Syverud Professor of Law
---