Timothy Lupinacci '91 assumes role of chairman and CEO of Baker Donelson
Apr 18, 2019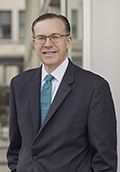 Timothy M. Lupinacci '91 has assumed the role of chairman and chief executive officer of Baker Donelson. He succeeds Ben Adams '81, who served in the role for a combined total of 21 years, first from 1993 to 1998 and then from October 2003 to April 2019.
Lupinacci's election was announced in October 2018. A shareholder in the firm's Birmingham office, he previously headed Baker Donelson's financial services department and served on its board of directors. He is also a former managing shareholder of the Birmingham office.
Lupinacci has more than 28 years of experience representing financial institutions throughout the country in complex issues arising in restructuring and has earned numerous accolades.  He is a Fellow of the American College of Bankruptcy and a member of the American Bankruptcy Institute. He earned his undergraduate degree at The University of Montevallo before earning his law degree at Vanderbilt.
Adams will remain with Baker Donelson and continue his practice focused on estate planning and corporate law. "It has been my great privilege to serve my colleagues and lead this firm, and I am thrilled that our board has elected Tim as our next CEO. In addition to being an outstanding practitioner and accomplished firm and industry leader, Tim is a doer, a motivator and a visionary. He is exactly the person we need to lead Baker Donelson forward in these rapidly changing times in our profession," he said.
Under Adams's leadership, Baker Donelson has grown from a firm of around 350 attorneys across 10 offices to become one of the 60 largest law firms in the country, with more than 700 attorneys across 22 offices in 10 states and Washington, D.C.
"I am tremendously honored by the confidence that Ben and our board have placed in me," Lupinacci said. "It is difficult to overstate the  positive impact that Ben has had on this firm, so I look forward to working closely with him over the coming months and benefitting from his guidance as I take on this new role."
In addition to his leadership roles within Baker Donelson, Lupinacci had served on the Firm's Diversity Committee and previously served as co-chair of Baker Donelson's Women's Initiative Pathways to Leadership Committee. He is a recipient of the firm's Susan E. Rich Award, in recognition of an unflagging commitment to advancement of women at Baker Donelson and to women's issues generally, and of the Barry Ford Diversity Award, in recognition of an ongoing commitment to strengthen the atmosphere of inclusion at Baker Donelson.
---