Timothy Meyer elected to membership in American Law Institute
Jan 11, 2017
Timothy Meyer, Enterprise Scholar and professor of law, has been elected to membership in the American Law Institute. ALI is the leading independent organization in the United States producing scholarly work to clarify, modernize and otherwise improve the law.
Its members, who include practitioners and academics, apply their areas of expertise to ALI projects, which include Restatements of the Law, model statutes and principles of the law. These publications are influential in American courts and state legislatures and in legal scholarship and education.
"ALI allows leading scholars in all areas of the law to apply their research to improving law and policies," said Associate Dean for Research Chris Serkin. "Tim's work on international energy and environmental law and economics make him a valuable addition to this prestigious organization."
Meyer's work focuses on international lawmaking and compliance, with an emphasis on international economic, environmental and energy law. His current research examines how the international economic system is evolving under the stresses of economic inequality and environmental imperatives. His published work analyzes the interaction of international and local rules on energy subsidies, the role of local governments in free trade agreements, the relationship between international energy institutions, and the creation of non-binding "soft law" obligations. Professor Meyer's work has appeared in the University of Pennsylvania Law Review, the California Law Review, the Journal of Legal Analysis, the European Journal of International Law and the Harvard International Law Journal, among others. He is also the author of a book on international soft law (with Andrew Guzman), forthcoming from Oxford University Press. Professor Meyer has testified before the U.S. Senate Committee on Foreign Relations and has served as a consultant and expert on international law issues in litigation in U.S. courts.
Meyer is one of 14 Vanderbilt Law faculty members who are ALI members. Others include Brian Fitzpatrick, Tracey George, Daniel Gervais, Dean Chris Guthrie, Nancy King, Beverly Moran, J.B. Ruhl, Jeffrey Schoenblum, Sean Seymore, Suzanna Sherry, Chris Slobogin, David Williams and Ingrid Wuerth.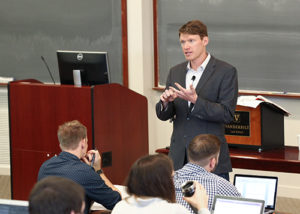 Before joining Vanderbilt's law faculty in 2015, Meyer taught for five years at the University of Georgia School of Law. He entered the legal academy after practicing law for several years at the Office of the Legal Adviser, U.S. Department of State. While there, Meyer represented the United States in commercial arbitrations and real property transactions all over the world, as well as in negotiations with foreign governments on diplomatic law issues. Before joining the State Department, Professor Meyer was a law clerk for Judge Neil M. Gorsuch of the U.S. Court of Appeals for the Tenth Circuit.
Professor Meyer earned his B.A. and M.A. in history from Stanford University, where he graduated Phi Beta Kappa, and his J.D. and Ph.D. in Jurisprudence and Social Policy from the University of California, Berkeley. While at Berkeley, he held a Public Policy and Nuclear Threats Fellowship from the University of California Institute on Global Conflict and Cooperation.
---