Two articles by Daniel Gervais selected as best intellectual property articles published in 2013
Mar 20, 2014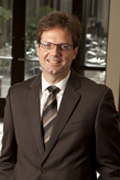 Daniel Gervais is the author and co-author of two articles selected for inclusion in the 2014 edition of the Intellectual Property Law Review.
Articles selected for the annual anthology published by Thomson Reuters represent "the best law review articles related to intellectual property published within the last year," according to the publisher.
The articles authored and co-authored by Gervais selected for the prestigious anthology address two current issues in copyright law.
In "The Derivative Right, or Why Copyright Protects Foxes Better than Hedgehogs," published in the Vanderbilt Journal of Entertainment and Technology Law in 2013, proposes methods to identify lawful "derivative" reuses of a copyrighted work, such as making a movie from a novel or translating a book, as well as those reuses a copyright owner can prohibit as reproduction. "The derivative right is at the very core of copyright theory," Gervais said. "Derivation often includes reproduction of all or part of a preexisting work. This article tackles the question of how the derivative right differs from the right of reproduction." Gervais ultimately suggests an approach based on the ways in which derivation and reproduction are differentiated under U.S. as well as international copyright law as established by the Berne Convention and in the British, French and German legal systems.
"Is Profiting from the Online Use of Another's Property Unjust? The Use of Brand Names as Paid Search Keywords," which Gervais co-authored with Martin L. Holmes, Paul W. Kruse, Glenn Purdue and Caprice Roberts, addresses basic question: Is Google's profiting from the use of another's brand in its AdWords program unjust? "The law usually takes a dim view of one who uses a third party's property without authorization. Yet in the case of AdWords, it hasn't thus far," Gervais said. In their article, published in a 2013 edition of IDEA: The IP Law Review, he and his co-authors assert that "this inconsistency arises from a failure to reach beyond the limits of trademark law in search of a remedy." They evaluate various common law and equitable doctrines and ultimately suggest unjust enrichment as a possible legal solution for certain unauthorized, profitable and wrongful use of brands.
An expert in international copyright law, Gervais directs Vanderbilt's International Property Program and serves as faculty director of Vanderbilt's LL.M. program for foreign attorneys.
---