Vanderbilt team of Scott Friedman and Alex McVeagh reach semi-finals in International Commercial Mediation Competition
Feb 28, 2013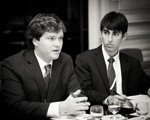 Scott Friedman and Alex McVeagh, both members of the Class of 2013, placed fourth among 65 teams in the eighth annual International Commercial Mediation Competition held by the International Chamber of Commerce (ICC) February 8-13 in Paris, France.
In addition to reaching the competition's semi-final round, Friedman and McVeagh received the award for "Best Public Speakers."
The first Vanderbilt Law School team to enter the competition, Friedman and McVeagh were one of 65 teams from 31 nations. The competition, which is organized by the ICC with support from major international law firms and corporations, required law students on each team to assume the roles of client and attorney engaged in a commercial mediation. Throughout the competition, Friedman played the role of the attorney and McVeagh the role of the client.
"Alex and Scott performed exceptionally well as Vanderbilt's first representatives in a high-profile international competition," said Ingrid Wuerth, who directs Vanderbilt's International Legal Studies Program, which awarded the team a grant to help defray its expenses. "I'm extremely proud of their hard work and good showing at this competition, and I'm also very grateful to our terrific adjunct faculty for the support and training they provided."
Vanderbilt was one of 11 U.S. law schools that sent teams to the ICC competition and one of four to advance past the preliminary rounds. Other U.S. law schools competing in the quarter-finals included Cornell Law School, St. John's School of Law and Cardozo Law School. Vanderbilt and Cornell ultimately lost in the semi-finals to teams from Auckland Law School (New Zealand) and Jagiellonian University (Poland).
The teams from Vanderbilt and Auckland University were the only first-time participants to advance past the preliminary rounds. In addition to the team from New Zealand, McVeagh and Friedman faced teams from Poland, India, Belgium, Austria and Singapore.
The team was coached by Larry Bridgesmith, a member of Vanderbilt's adjunct law faculty who is an experienced commercial mediator and helped found the Institute of Conflict Management at Lipscomb University. Bridgesmith enlisted assistance from Assistant Dean for Academic Life Donna Pavlick and several Nashville-based mediators who helped the students prepare by participating in practice sessions. Margaret Blair, who holds the Milton R. Underwood Chair in Free Enterprise, assisted Friedman and McVeagh with analyzing competition problems.
"Most teams consisted of four members rather than only two, because of the time required to prepare for as many as two mediations per day, and most teams were accompanied by coaches who assisted with their preparation and written work," Bridgesmith said. "Alex and Scott performed exceptionally well–one German judge said that he had not seen many practicing lawyers demonstrate the mediation advocacy skills he saw in Alex and Scott."
In addition to oral mediation advocacy, Friedman and McVeagh were required to write a mediation plan for each new round of the competition. "We had about two months to prepare for the preliminary rounds, but for each of the final rounds, we received a brand new problem just hours before the session," McVeagh said. "Because of the time difference, we were calling Professor Bridgesmith at 2 a.m., and he would talk us through the problems."
Friedman, who is on the editorial staff of the Journal of Transnational Law, first learned about the competition from an attorney who practices international arbitration and litigation. He and McVeagh were encouraged to enter the competition by Eric Blinderman, a member of Vanderbilt's adjunct law faculty who teaches international commercial arbitration and serves as international litigation counsel with Proskauer Rose in New York.
Friedman and McVeagh cleared the first major hurdle when their application to the competition was accepted by the ICC. "Several teams had already won a national competition in order to get to the ICC competition," McVeagh said.
The competition left Friedman and McVeagh excited and exhausted, and both consider the competition one of the highlights of their law school experience.  "The quality of the competition, mediators and judges was extremely high, and we now have friends and professional contacts from across the world," Friedman said.
---