VLS Pro Bono Spring Break team works at Mississippi Center for Justice
Apr 15, 2020
A six-student team led by Emily Slifkin '21 and Miles Malbrough '22 spent their spring break working pro bono for attorneys at the Jackson office of the Mississippi Center for Justice. The Jackson Pro Bono Spring Break Team was one of two groups of students who devoted their break to volunteer legal work; a second team traveled to Memphis, Tennessee, to work at Just City.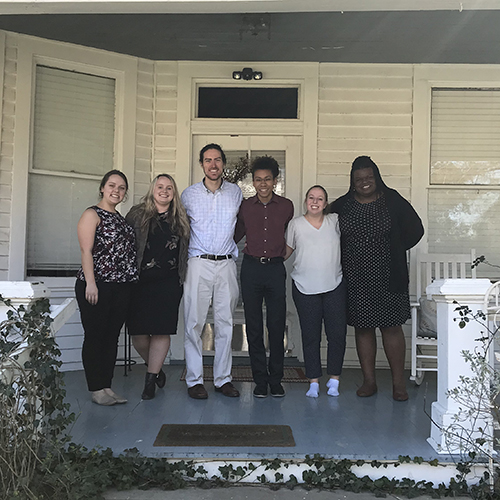 Slifkin and Malbrough worked with team members Funmi Akinnawonu '20, Natalie Graves '22, Karlene Kuhn '22 and Bryan Teresi '22 to organize the trip with funding and support from the VLS Office of Public Interest, headed by Assistant Dean Spring Miller. VLS students joined law students from the University of California at Irvine to work on several projects under the direction of staff attorneys at the Mississippi Center for Justice, a public service law firm that fights discrimination and economic and social injustice through legal representative, policy advocacy and community education.
For Slifkin, a native of Rochester, New York, who earned her undergraduate degree at Cornell University, the program afforded an opportunity to learn firsthand about the unmet needs for legal services in the rural South. "This trip was a great opportunity for service learning," she said.
As a 2L, Slifkin has worked as an intern and a volunteer at the U.S. Attorney's Office for the Middle District of Tennessee and with a legal education program for young adults through the Vanderbilt Legal Aid Street Law program.  She and other team members researched public benefits legislation, identified obstacles preventing low-income people from accessing benefits such as Medicaid and food stamps, and helped develop talking points and fact sheets that legal aid staff can use to educate low-income Mississippians about benefits available to them and their legal rights as well as media toolkits.
All students staffed an expungement clinic, working one-on-one with staff attorneys to complete the paperwork expunging the records of Mississippians whose contact with the criminal justice system remained on their records even after cases were dismissed. "One of my clients was applying to nursing school," Slifkin said. "She had no criminal convictions, but she had no chance of getting into a nursing program unless her record was expunged."
Malbrough spent three years as a Peace Corps volunteer in the Dominican Republic before law school and has volunteered as a translator for the VLS Immigration Practice Clinic as a 1L. He and other students helped MCJ staff attorneys contact workers who were forced to flee their jobs at a food processing plant during an immigration raid to let them know legal assistance was available. Other students researched discriminatory police practices, reviewing footage of traffic stops and interviewing potential clients for possible impact litigation. "Students also researched statutes criminalizing HIV, which disproportionately affects poor communities and communities of color," Malbrough said.
A native of Hendersonville, Tennessee, who earned his undergraduate degree at Harvard University, Malbrough chose VLS because "I want to be engaged in pro bono legal work in the South," he said. "Students on the Mississippi Pro Bono Spring Break team learned firsthand how MCJ is addressing the legal challenges facing marginalized communities in the South."
"We so appreciate our partnership with VLS and the dedication of students who choose to devote their spring break to exploring public interest law," said MCJ Advocacy Director Beth Orlansky. "Having students in-house for a week allows us to significantly increase our capacity to help low income Mississippians."
The Pro Bono Spring Break program was launched in 2016 by Miller and Darrius Woods '17. Students apply for the program during the fall semester. "Students really take the lead in this program, and they gain substantive experience in many different areas of law while serving the public," Miller said.
---