Wesley Dozier '19 (BA'16) named Equal Justice Works Fellow
May 14, 2019
Wesley Dozier '19 (BA'16) has been named an Equal Justice Works Fellow. As a member of the 2019 Class of EJW Fellows, Dozier will work at Just City, a Memphis, Tennessee-based legal nonprofit that advocates for reform within Tennessee's criminal justice system.
Dozier will devote his two-year fellowship to representing clients seeking to get their court costs and other fines reduced or waived to eliminate financial obstacles to expungement, a formal process by which a criminal charge is removed from the public record. He will also expand Just City's expungement program by developing a process to enable volunteer attorneys to more easily provide pro bono legal aid, such as helping indigent clients complete and file the paperwork required to expunge their records.
According to Dozier, many eligible applicants cannot seek expungement because they owe fines and court costs that they are unable to pay. "I've met people who owe thousands of dollars they can't pay because they don't have the resources," Dozier said. "They often can't find adequate employment because of their criminal records. Contact with the criminal justice system should not cause you to be less able to make it in life."
As a third component of his fellowship project, Dozier will advocate for legislative changes, such as reduction or elimination of heavy fines, which will decrease the burdens that contact with the criminal justice system can impose on people's everyday lives. "People should not be trapped with a criminal record because they can't afford to pay fines and court costs," Dozier said.
Dozier's Equal Justice Works Fellowship is sponsored by International Paper and extends from 2019 to 2021. He is one of 76 EJW Fellows selected from more than 450 applicants.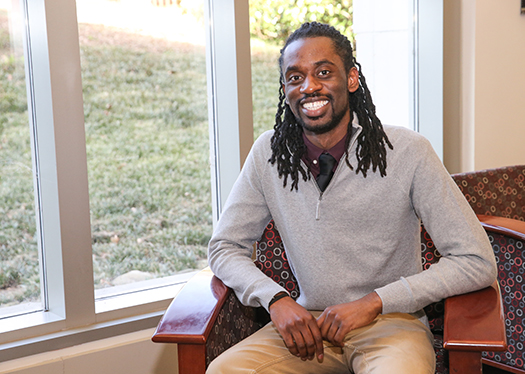 A Memphis native, Dozier realized he wanted to pursue in a career in social justice law after watching his own family members go through the criminal justice system as a child and subsequently learning about the criminal justice system from a structural perspective as an undergraduate at Vanderbilt University. As his capstone research project in his senior year of college, Dozier researched local resources for people recently released from prison and interviewed people living at halfway houses about their struggle to find housing, jobs and re-enter society after completing a prison sentence.
Dozier was named Vanderbilt's Class of 2019 Garrison Social Justice Scholar during his 1L year, receiving a two-year scholarship that also provided stipend support for summer work in the public interest. He worked at the Center for Constitutional Rights, a New York-based nonprofit legal organization that addresses civil and human rights violations, in summer 2017, and at the Southern Center for Human Rights in Atlanta during summer 2018.
At VLS, he was president of Law Students for Social Justice and an undergraduate mentor with the Black Law Students Association. He was one of 10 students selected for Vanderbilt's 2017 Pro Bono Spring Break, during which students spent the week in Biloxi working with attorneys from the Mississippi Center for Justice on property rights, expungement and education cases. He was selected for the Cal Turner Program for Moral Leadership in the Professions, an interdisciplinary fellowship program that includes students from all Vanderbilt graduate and professional schools.
"Wesley has been a social justice leader in our law school community since his 1L year," said Spring Miller, assistant dean for public interest. "It is enormously gratifying to see him secure this extraordinary opportunity to use his law degree to advance economic and racial justice in his hometown."
Dozier was honored at the law school's commencement ceremonies May 10 with the Bennett Douglas Bell Memorial Award, which goes to "the student of the senior law class who is not only well-versed in the law, but who shows the highest conception of the ethics of the profession." This is the only award whose recipient is chosen by the vote of the entire law faculty. Dozier also received one of two Damali A. Booker Awards, presented each year to one or more third-year law students who have demonstrated keen dedication to legal activism and a demonstrated commitment to confronting social issues facing both Vanderbilt Law School and the greater Nashville community.
---