Wesley Dozier '19 (BA'16)
Wesley Dozier realized he wanted to pursue in a career in social justice law while taking an undergraduate philosophy class focusing on mass incarceration. "I had never been explicitly interested in the justice system until I took this class," he admitted. "I realized there was more the criminal justice system could and should do to help people who are drug-addicted and who live in poverty."
The class also helped Dozier gain perspective on his childhood experience, during which his father was in and out of prison. Dozier and his sister were raised by his mother. As his capstone research project in his senior year at Vanderbilt University, Dozier researched local resources for people recently released from prison and interviewed people living at halfway houses about their struggle to find housing, jobs and re-enter society after completing a prison sentence.
During summer 2016, before starting law school, he lived and worked Dismas House, a Tennessee nonprofit established in 1974 by Father Jack Hickey, then the Catholic chaplain at Vanderbilt, and a group of students, which provides a safe haven for ex-offenders while they make a new start. "Working at Dismas House was a great experience that confirmed my interest in social justice law," he said. "Prison is very costly, and the experience is not putting people in a better position to succeed when they get out. Recidivism rates are off the charts."
At Dismas House, Dozier helped organize a fundraising event where ex-felons living at the house told their stories to an audience that included Nashville Mayor Megan Barry. "People who are on the receiving end of social ills often don't get the chance to speak for themselves," he said. "There's a lot of power in doing that, and one of my goals is to make sure people's voices are heard."
Since starting law school, Dozier has joined Law Students for Social Justice, where he serves as the 1L representative and on the Community Service Committee, as well as the Black Law Students Association. He also volunteers at Riverbend Maximum Security Prison in Nashville, where he visits an inmate on Tennessee's death row.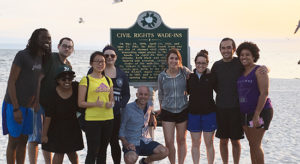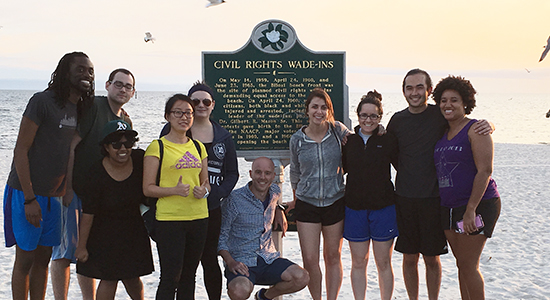 He was also one of 10 students selected for Vanderbilt's 2017 Pro Bono Spring Break, during which students spent the week in Biloxi working with attorneys from the Mississippi Center for Justice on property rights, expungement and education cases.
Dozier returned from the Spring Break trip to receive good news; he was named the Class of 2019 Garrison Social Justice Scholar. The scholarship provides tuition assistance along with summer stipend support to help defray his expenses for unpaid summer work in the public interest. During summer 2017, Dozier will work for the Center for Constitutional Rights, a New York-based nonprofit legal organization that addresses civil and human rights violations.
---