Youth Opportunity Clinic partners with Youth Law Center to promote pandemic relief program for former foster youth
Aug 5, 2021
The Youth Opportunity Clinic at Vanderbilt Law School and attorneys at the
Youth Law Center
are working together to help young adults in Tennessee who have aged out of foster care apply for pandemic relief and to share information about how to help eligible recipients access pandemic relief funding with service providers, advocates and young adults. 
Cara Suvall
, who directs the Youth Opportunity Clinic, urges all young adults who are ages 18 to 26 and who were in foster care in Tennessee, including placements related to juvenile delinquency, after the age of 14 to
fill out the application for pandemic relief
.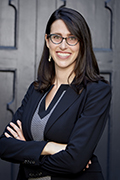 Young adults who were in foster care in Tennessee as teens can visit vanderbi.lt/foster for more information about the application process and to learn about other assistance for which they may be eligible, including financial aid for college and medical insurance.
"Federal stimulus funds are available to some young adults who have been in foster care placements in Tennessee," Suvall said. "If you are eligible to receive this money, you need to apply for the relief funds before the deadline, which is September 15. If you think you might be eligible for pandemic relief through this program, I urge you to contact the Youth Opportunity Clinic with any questions at youth.opportunity@vanderbilt.edu."
Suvall emphasized that $7.4 million in stimulus funds are available to young adults who spent time in foster care in Tennessee after age 14. Depending on the number of applications received, individuals may be eligible to receive checks of up to $1,200 while funds last, and applicants can may also be eligible for additional services, including help with transportation, rent and child care.
The Youth Opportunity Clinic and the Youth Law Center are coordinating with legal services providers throughout Tennessee, including public defenders' offices, and with other nonprofit organizations to promote this important pandemic relief program to all young adults who may be eligible.
Young adults living in other states who were in foster care placements in Tennessee as teens may also be eligible for relief funding and are encouraged to apply for benefits.
"The Youth Law Center is tracking federal legislation and policy related to pandemic relief for foster youth and is excited to partner with the Youth Opportunity Clinic at Vanderbilt Law School to ensure that youth and providers in Tennessee have access to current information about available resources. You can find updated information about pandemic relief at vanderbi.lt/foster," said YLC Staff Attorney Jasmine Miller.
The Youth Law Center is a national nonprofit law firm that advocates to transform foster care and juvenile justice systems across the nation so every child and youth can thrive.
Students in Vanderbilt's Youth Opportunity Clinic represent teenagers and young adults in their twenties by providing civil legal representation to help them access education, housing and employment.
---
Alumni Equity, Diversity and Community General News Public Interest News Youth Opportunity Clinic