Zachary Fardon '92 nominated to become U.S. Attorney for the Northern District of Illinois
May 28, 2013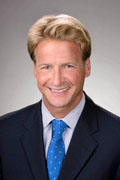 Zachary T. Fardon '92 (BA'88) has been nominated to serve as United States Attorney for the Northern District of Illinois.
Fardon's nomination was announced by the White House on May 23.
"Today, I am honored to nominate this highly respected legal professional as a United States Attorney," President Obama said in the White House release. "Zachary Fardon will be unwavering in his commitment to justice, and I am confident he will serve the people of Illinois with excellence."
Fardon is a partner at Latham & Watkins in Chicago, where he currently serves as chair of the litigation department. He had previously served as the First Assistant U.S. Attorney in the Middle District of Tennessee from 2003-06 and as an Assistant U.S. Attorney in the Northern District of Illinois from 1997 to 2003.
He began his legal career working as an assistant public defender in the Nashville Metropolitan Public Defender's Office from 1996-97 and as an associate at King & Spalding from 1992-96.
Fardon received his B.A. in 1988 from Vanderbilt University before earning his J.D. at Vanderbilt in 1992.
---