Zoe Beiner '18 and Nell Henson '18 win 2017 Bass Berry & Sims Moot Court Competition
Mar 1, 2017
Zoe Beiner '18 and Nell Henson '18 won the 2017 Bass Berry & Sims Moot Court Competition, held at Vanderbilt Law School Feb. 3, receiving the John A. Cortner Award and a cash prize for their win.
Beiner and Henson faced finalists Michael Buschmann '18 and Sam Mallick '18. The competition began last fall with 67 teams and a total of 133 participants. Henson received the award for Best Oralist, and the team of Maureen Dunnagan '18 and Nicole Weeks '18 received the award for Best Brief. Semi-finalists included 2018 class members Tom Johnson, Meg Fowler, Alex Carver and Paulson Varghese.
Under the leadership of Vanderbilt Moot Court Board Chief Justice Kamron Cox '17, Executive Justice C.J. Donald '17 managed a team of third-year students who organized and ran the competition.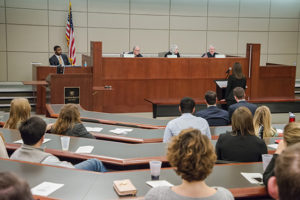 The competition's final round was argued before a panel of three federal appellate judges, including Judge Rhesa Barksdale of the U.S. Court of Appeals for the Fifth Circuit, who served as the round's Chief Justice, Judge Jane Branstetter Stranch '78 (BA'75) of the U.S. Court of Appeals for the Sixth Circuit, and Judge Duane Benton of the U.S. Court of Appeals for the Eighth Circuit.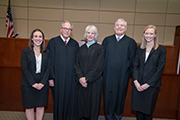 The 2016-17 Moot Court problem, Paulson v. United States, written by Executive Problem Editor Abby Moskowitz '17 and Associate Problem Editors Neil Greenwell '17 and Andrew Marino '17, raised two constitutional criminal procedure questions. The first, a Fourth Amendment question, required teams to consider the proper interpretation of Payton v. New York's language that police officers must have "reason to believe" that the target of arrest warrant lives and is actually  present at a residence before they are legally permitted to enter the residence to arrest him. Teams were also required to determine whether Almendarez-Torres v. United States, which addresses sentencing requirements, should be overturned as unconstitutional under Due Process and the Sixth Amendment right to a jury.
Buschmann and Mallick argued for the petitioner, Robert Paulson, and Henson and Beiner argued for the respondent, the United States.
The John A. Cortner Award, which goes to the winners of Vanderbilt's annual Bass Berry & Sims Moot Court competition, honors John Cortner '86, who served as the Moot Court Board's chief justice. Cortner joined Bogle & Gates in Seattle after graduation, but was diagnosed with Hodgkin's disease soon after and died within the year. His family endowed the award in 1988 in his memory.
---