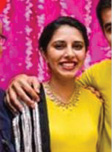 Ameena Nadeem Ashfaq, Class of 2008, died March 31 after a two-year battle with cancer. Ameena was married to Dr. Rehan Ahmed (M.D.'08). Ameena and Rehan met as high school seniors. After attending universities in different states, they married and moved to Nashville in 2004 to attend Vanderbilt. Following their graduation, Ameena and Rehan moved to Houston, where she joined Baker and Hostetler, and he was an intern and resident. There, she focused on health care law and was beloved by her colleagues for her intelligence, meticulous work and caring, positive attitude.
Ameena had a passion for art. Her primary medium was fused glass, and she cultivated this craft for more than 10 years. Her work has been featured in the John Natsoulas Gallery in Davis, California, and is part of the permanent collection of the Islamic Art Exhibit in San Francisco.
Although devastated by her early death, her family celebrates Ameena's full and happy life during her 33 years. In addition to Rehan, she is survived by her parents, her brother and sister-in-law.