California Supreme Court Justice Goodwin Liu engaged in a candid discussion about the work of judging at Vanderbilt Law School January 22. The first of four talks sponsored by the Branstetter Litigation and Dispute Resolution Program, the conversation with Justice Liu was moderated by Professor Ganesh Sitaraman.
Justice Liu was nominated to the California Supreme Court in July 2011 and confirmed in August 2011. He had previously been nominated for a seat on the U.S. Court of Appeals for the Ninth Circuit by President Barack Obama in 2010; his nomination was ultimately blocked by Senate Republicans in May 2011.
In his remarks, Justice Liu outlined the intense nomination and confirmation process for federal judges. He said that even filling out the initial forms to be eligible for a judgeship was "a huge project—you have to include every address where you've ever lived, every talk you've ever given, the cases you've worked on, policy issues you've touched. If you've kept a diary, that's great. If not, it's very hard to complete these forms. They're very thorough, and there's a reason for that."
Justice Liu earned his law degree at Yale in 1998 and then clerked for Judge David Tatel of the U.S. Court of Appeals for the D.C. Circuit and for Justice Ruth Bader Ginsburg on the U.S. Supreme Court. He was teaching at the UC-Berkeley School of Law when he was nominated to the federal bench, and his academic writings were scrutinized as part of the judicial vetting process. Justice Liu discussed how many factors that shape the confirmation process, including the current political climate, party conflicts over previous judicial nominees, and major legislative initiatives, are simply out of a nominee's control. "Once you realize that and come to peace with it, you reach a point of equanimity," he said. "You have to develop a thick skin and go on with your life."
His journey through the federal judicial nomination process and his subsequent appointment to the California Supreme Court has given Justice Liu a unique perspective on the work of state courts. "Same-sex marriage ended up in our court, and that put us in the center of attention," he said. "But social-issue controversies like abortion rights that inspire great passion on all sides are just not frequent in our court. But while the cases we do hear may not be salient socially, the matters we hear involving employment discrimination, labor law, arbitration, insurance and vicarious liabilities for franchisers are really important for how life is organized."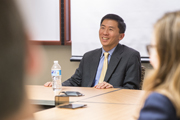 Justice Liu was recently on the California ballot for retention, and voters retained him for a 12-year term. "No judge likes to be put on the ballot," he said. "It's uncomfortable, but it really doesn't affect what you do."
He also emphasized that, in his experience, judges are influenced far less by personal beliefs and politics than is typically assumed. "Judges follow the law. The judicial function is inherently conservative, backward looking, reliant on precedent, defers to authority," he said. "If you're asking if, as a judge, I've ever voted against my personal views, my answer is that I do that every single day. That's what it is to be a judge. I may think something is terribly wrong, but there's nothing I can do about it—someone else wrote the statute and it's my job to apply it."
Justice Liu's talk is the first in a series of talks by sitting judges organized by the Branstetter Litigation and Dispute Resolution Program. Upcoming Branstetter Judicial Speaker Series events feature five judges from the U.S. Courts of Appeals: Chief Judge Diane Wood of the Seventh Circuit will discuss civil procedure reform on January 27; Judge Raymond Lohier of the Second Circuit, Judge John Rogers of the Sixth Circuit and Judge Stephanie Thacker of the Fourth Circuit will talk about judicial clerkships on February 6; and Judge Andre Davis of the Fourth Circuit will examine the role of social justice in criminal investigation and procedure on February 25.