J. Christopher Giancarlo '84 touted a principles-based approach to regulating financial markets, products and currencies in his 2018 Cecil Sims Lecture, "Derivatives Regulatory Reform: A Principles-based Software Upgrade," at Vanderbilt Law School April 13. Giancarlo has served as chair of the Commodity Futures Trading Commission, which regulates derivatives and futures trading, since 2017 and had previously served as a CFTC commissioner since 2014.
Citing innovations such as bitcoin, block chain, machine learning and artificial intelligence, Giancarlo advocated a flexible regulatory approach based on overarching policies and principles rather than a rigid, rule-based approach that might stifle innovation. "When I left Vanderbilt for a Wall Street law firm in 1984, the technology that was changing the practice of law was Federal Express that compressed the legal process into overnight hours," he recalled. The overnight transmission of legal documents made possible by FedEx, he noted, has long since been superseded by technological advances so rapid that any rule-based regulatory regime is instantly outdated.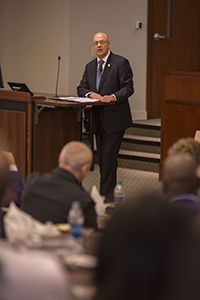 To illustrate the profound impact of technology on future financial markets, Giancarlo related a personal anecdote he had also shared with members of the Senate Banking Committee Feb. 6. After delivering "an extensive 40-page written statement, including attachments and detailed footnotes" as the CFTC's formal testimony, Giancarlo told the senators, "I'd like to begin briefly with a slight different perspective. That is…as a dad." He and his wife had set up small brokerage accounts hoping to interest their three high-school-aged children in financial markets. Although one son bought shares in a video game company, Giancarlo confessed, "We haven't been able to pique their interest in the stock market."
Then Giancarlo's niece invested in Bitcoin and told her cousins about it during a family ski trip. "Suddenly, they were all talking about Bitcoin. They were asking me what I thought, and should they buy it," he recalled. Their excitement about cryptocurrency gave Giancarlo an insight: The younger generation understands and trusts technology-based solutions their elders may reject. Rather than trying to nip in the bud an emerging technology such as Bitcoin, his role as a financial regulator should be to ensure such innovations followed basic principles of fairness and safety. "We owe it to this new generation to respect their enthusiasm about virtual currencies with a thoughtful and balanced response, not a dismissive one, and yet we must crack down hard on those who try to abuse their enthusiasm with fraud and manipulation," he told Senate Banking Committee members.
A reporter who witnessed Giancarlo's testimony tweeted his anecdote. Within minutes, Giancarlo's number of Twitter followers exploded, increasing by thousands in minutes and to over 40,000 within days. Much to his amusement, he was dubbed #Cryptodad and #FUDbuster. "I neither expected nor desired that a few words spoken during a Senate hearing broadcast on C-SPAN would lead to an Andy Warhol 15 minutes of fame," he said. "Nor was I — or am I — a virtual currency evangelist."
However, the experience crystalized Giancarlo's understanding of technology as an agent of both social and market change. "The cryptocurrency universe sadly contains a large share of get-rich-quick schemers, shady entrepreneurs and transactions in illegal goods," he said. "It also appears to have a growing contingent of professional, institutional users. Yet it is also favored by advocates for the poor and unbanked, libertarians, pacifists, Occupy Wall Streeters, earnest tech geeks, economic buffs, long-term investors, and many perhaps naïve but well-meaning young people."
Giancarlo noted that Bitcoin's emergence in the wake of the 2008 financial crisis, when the current generation of new professionals was coming of age, was not a coincidence. "[This generation has] lost faith in the leadership that presided over that mess, in the same way that 50 years ago the Baby boomers lost faith in their parents' leadership of wars over civil rights and Vietnam," he said. "They see virtual currently…as a mean to bypass control by a failed generation of leadership."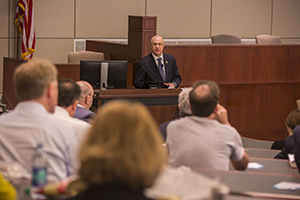 A regulatory approach that maintains the integrity of the market while adapting to innovations such as Bitcoin is essential going forward, he asserted. "The relentless advance of technology and evolution of market structure requires a flexible, principles-based approach to oversight," Giancarlo said.
In his talk, Giancarlo compared financial regulation in "the world's most dynamic commodity and financial derivatives market" to a complex software system that requires continuous updates to accommodate technological advances. Regulators, he believes, must be prepared to accommodate the new investment vehicles, financial products and services tech-savvy adults will embrace in the future. "Financial regulators have a duty to apply the policy prescriptions of their legislators in ways that enhance markets and their underlying vibrancy, diversity and resiliency," he said. "That means a forward-looking approach that considers the impact of technological innovation and anticipates changing market dynamics."
After his lecture, Giancarlo met with Vanderbilt's Board of Advisors for a Q&A session about the CFTC's role and work.
The Cecil Sims Lecture Series was established in 1972 to bring to Vanderbilt Law School distinguished men and women with extensive legal experience to associate informally with faculty and students. Recent lecturers have included prominent jurists such as U.S. Supreme Court Justice Sonia Sotomayor and U.S. Attorney General Eric H. Holder Jr. The series honors Cecil Sims, a 1914 first-honor graduate of VLS and founding member of Nashville law firm Bass Berry & Sims, and is made possible through the generosity of the Sims family.