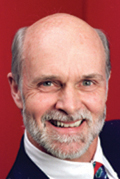 Donald J. Hall, a celebrated teacher of criminal law and procedure who served on Vanderbilt's law faculty from 1970 until his retirement in 2007 – his entire academic career – has died. His death resulted from Alzheimer's disease.
"Don was revered by his students, and rightly so, as an outstanding teacher and mentor," said Dean Chris Guthrie. "He was an important part of the Vanderbilt Law School experience and contributed greatly to the life of the law school for almost 40 years. I was sorry to see him retire five years ago and am greatly saddened by his death."
First and foremost a teacher
A popular and well-regarded teacher who was beloved by students and colleagues, Professor Hall was also the author of a casebook on criminal procedure widely used in American law schools. He received his first Vanderbilt teaching award—the Teacher of the Year Award—in 1974, shortly before the award was renamed in honor of retiring Professor Paul Hartman. Professor Hall ultimately won the award in nine different years, and it was renamed a second time in his honor shortly before he retired. It is now the Hall-Hartman Outstanding Professor Award. He also became one of two inaugural holders of the Vanderbilt University Chair for Teaching Excellence in 1994 and was the first recipient of the Tennessee Bar Association's Outstanding Law Professor Award when the TBA established the award to recognize excellent teachers in Tennessee's four law schools.
Professor Hall served as the law school's Associate Dean from 1979-84 under Dean Dent Bostick, but he was first and foremost a teacher. "I really enjoyed those years [as associate dean] and still find it endearing that a certain group of alums remember me as Dean Hall," he recalled in a 2007 interview for the Vanderbilt Lawyer, "but after five years, I was only too happy to turn the job over to someone else."
Coach and mentor
Professor Hall coached Vanderbilt's national Moot Court team for many years and mentored generations of students. "Professor Hall initially fired my imagination with his impassioned presentation of a topic I already found interesting – criminal law – but he won my lifelong loyalty when he opened his office door and then his address book to help guide me in finding first summer employment and then a judicial clerkship appointment after graduation," said Anne Owings Ford '89. "It was clear that a word from Don Hall was enough to get me in the door with a number of people."
"Don Hall gave many of the Vanderbilt Law graduates with whom I work their first window into the world of criminal law," said Victor S. (Torry) Johnson III, Class of 1974, Metropolitan Nashville's chief prosecutor, who had Professor Hall for Criminal Law and other courses. "There's no question that my classes with Don contributed to my interest in criminal law. Every day you spent in one of his classes, you always felt he was giving you 110 percent, and he maintained the same quality and enthusiasm for criminal law throughout his long and successful career. He told me, along with many others, that he wanted to retire at the top of his game, and he did."
Active in public service
Active in Tennessee criminal justice issues, Professor Hall served as co-chair of the Tennessee Commission on Gender Fairness, was the reporter for the state's pattern instructions in criminal cases, and, while a member of the Tennessee Sentencing Commission, helped to shape the state's revised penal code. He was appointed by Tennessee Governor Phil Bredesen to sit on the state Ethics Commission, where he served with his former student Dianne Neal '83 and chaired the commission for a term; the commission, formed in response to the "Tennessee Waltz" scandal, developed rules and regulations governing the behavior of lobbyists and members of the Tennessee General Assembly. He also served on the Governor's Commission on Juvenile Justice Reform and the Governor's Task Force on the Use of Enhancement Factors in Criminal Sentencing.
Professor Hall was warmly regarded by generations of Vanderbilt Law students not only for his outstanding teaching and the thorough grounding they received in criminal law and procedure in his courses, but also for his perspective on life as a lawyer. He cherished a tradition of speaking to his students on the last day of each course he taught about their career choices. "The essence of my comments was, 'Life is too short to take a job that does not bring you joy,'" he said in a 2007 Vanderbilt Lawyer interview shortly before his retirement. "My litmus test was whether you can answer 'yes' to this question: 'Do you genuinely look forward to going to your office each day.' If you can answer yes most of the time, you're fortunate – and you've made the right choice. Teaching law was definitely the right choice for me." Students and colleagues also fondly recall his sense of humor, often betrayed by a twinkle in his eye, and his infectious laugh.
Professor Hall was an avid cyclist, traveling from Canada to Mexico and from the Pacific to the Atlantic coasts, a journey that took Professor Hall and his friend and colleague, Professor Jon Bruce, from Oregon to Virginia. "Bicycling trips with my steadfast friend Don Hall were some of the greatest adventures of my life," Bruce said.
Professor Hall was also known for trouncing many of his students on Vanderbilt's tennis court. Barry Goheen '94 recalls not only Hall's "considerable teaching skills, which I experienced as a 1L in his Criminal Law class," but also "his competitive spirit and his devastatingly effective slice crosscourt backhand, which would barely clear the net and then nearly die when it hit the ground as I scrambled in vain to get my racquet under it."
A native of Waltham, Massachusetts, Professor Hall earned his undergraduate degree at Florida State University and his J.D. at the University of Florida.
Professor Hall is survived by his wife, Nancy, and his daughters, Pamela Sonderman and Kelly Klaaren; his brother, George Hall, and sister, Susan Naylor; and four grandchildren.
In lieu of flowers, Professor Hall's family has requested that memorials be directed to Family and Children's Center of Nashville, the Donald J. Hall Scholarship Fund at Vanderbilt Law School, or to a charitable organization of the donor's choice.