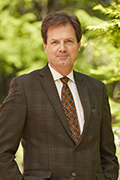 Daniel Gervais has begun a two-year term as president of the International Association for the Advancement of Teaching and Research in Intellectual Property (ATRIP). His induction ceremony was held Oct. 26 at the organization's 36th Annual Congress in Wellington, New Zealand, hosted by Victoria University's Faculty of Law.
He succeeds Susy Frankel, who holds a chair in intellectual property and international trade at the University of Victoria School of Law.
Professor Gervais holds the Milton R. Underwood Chair in Law and directs the law school's Intellectual Property Program and its LL.M. program for foreign attorneys. He is a member of the American Law Institute and the author of The TRIPS Agreement: Drafting History and Analysis, a leading guide to the treaty that governs international property law.  Professor Gervais is spending part of the 2017-18 and 2018-29 academic years at the University of Amsterdam, where he has been awarded a part-time chair.
ATRIP is an international consortium of scholars devoted to the advancement of teaching and research in the field of intellectual property law. The organization holds an annual congress focused on a theme: The 2017 congress addressed "The Object and Purpose of Intellectual Property" and included presentations on the impact of Brexit on intellectual property, intellectual property reform in India, human rights and intellectual property disputes, intellectual property and public policy, data mining, international copyright law, online trading and other topics.
"I am truly honored to serve as president of ATRIP. At a time when intellectual property law and policy is growing more important than ever in every part of the world, leading this association of IP teachers and researchers is both an incredible opportunity and an exciting challenge," Gervais said.
As ATRIP's president, Gervais will plan and preside over ATRIP's 2018 and 2019 annual congresses, which will be held in Helsinki, Finland, and Nashville, Tennessee.