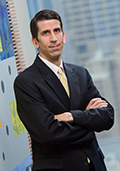 Eli J. Richardson '92 has been confirmed to a seat on the U.S. District Court for the Middle District of Tennessee by the U.S. Senate.
Richardson had been a partner at Bass Berry & Sims in Nashville, where his legal practice focused on government investigations involving alleged white-collar crime or criminal civil violations, since 2010.
"Eli Richardson has quite a distinguished career having served as a FBI agent, federal prosecutor, U.S. embassy legal adviser, and private attorney," said Sen. Bob Corker (R-Tenn.) in a statement announcing Richardson's confirmation to the federal bench. "His diverse background and knowledge in civil and criminal matters will serve the Middle District well. I was honored to recommend Eli for this position, and I am glad his confirmation will help alleviate the high caseload in the Middle District."
Richardson's nomination was announced by the White House Jan. 8, 2018.
Immediately prior to joining Bass Berry & Sims, Richardson served 19 months overseas as the U.S. Department of Justice's resident legal adviser to Serbia, providing training, advice and case-specific assistance to Serbian judges, police and prosecutors. From 2004 to 2009, Richardson was an assistant U.S. attorney in the U.S. Attorney's Office for the Middle District of Tennessee, where in addition to prosecuting cases he served as anti-terrorism coordinator, head of the terrorism and official corruption unit, and finally criminal chief.
From 2002 to 2004, Richardson served as in the U.S. Attorney's Office for the District of New Jersey, investigating and prosecuting a wide variety of cases. Prior to that, he spent four years as an FBI Special Agent, working first on public-corruption investigations, and then on counterterrorism matters as the FBI's regional weapons of mass destruction coordinator.
"Eli is a distinguished attorney and will be an excellent addition to the judiciary," said Todd Rolapp, Bass Berry & Sims managing partner. "He has been an invaluable resource to our clients and our firm during his time with Bass Berry & Sims. His experience as a lawyer combined with his years of experience on the government side working with the DOJ, the U.S. Attorney's Office and FBI will provide an informed and balanced background for this judicial role. We are extremely proud of Eli and offer our complete support in this nomination."