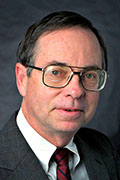 Jeff Carr '66, a senior leader at Vanderbilt University for many years, died Sunday at his home in Dickson County, Tennessee. He was 75.
During his decades at Vanderbilt, Carr served as general counsel, university secretary, vice chancellor for university relations and trusted adviser to multiple chancellors.
In a statement, Chancellor Nick Zeppos said Carr "played a vital role in envisioning and assembling the campus that we know today. Because of the work of Jeff and others like him, Vanderbilt is one of very few universities in the nation — perhaps the only one — where 10 colleges and schools reside on the same campus," Zeppos said.
Carr settled in Nashville after earning his law degree at Vanderbilt in 1966 and joining the university's professional staff. Over the course of his career, he oversaw the operation of several offices, including security, news and public affairs, traffic and parking real estate.
Chancellor Emeritus Joe B. Wyatt, who led Vanderbilt 1982 to 2000, remembered Carr as a trusted adviser who spoke softly, but with great wisdom. Carr helped navigate the addition of Peabody College to Vanderbilt University and worked to manage the massive growth at the Vanderbilt University Medical Center.
Carr also worked with merchants and property owners in the 1990s to beautify Hillsboro Village, according to the university's obituary.
He was the lead organizer of a regional planning summit in 1999 and helped to create the regional planning initiative that eventually became Cumberland Region Tomorrow, an organization dedicated to planning for the future success and livability of the 10-county region including and surrounding Nashville.
He also served the Nashville Chamber of Commerce as general counsel and was a member of the Executive Committee, the Education Committee and the Board of Governors.
Born in the Bronx, New York, Carr grew up in Alabama, according to the university. He earned his undergraduate degree from the University of Tennessee-Chattanooga, which was called the University of Chattanooga at the time.
Carr and his family lived on a farm in Dickson County near Burns, about 30 miles west of Nashville. At one point, Carr owned seven farms in Davidson and Hickman counties. In addition to managing his farms, Carr served on the Dickson County Quarterly Court and as a member of the Dickson County Water Authority.
Carr is survived by his wife, Anne O. Carr, two daughters, a son-in-law and two grandchildren.