James Balser, Class of 2016, has been awarded a Helton Fellowship by the American Society of International Law.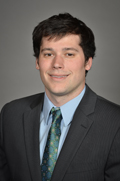 Selected from a pool of applicants throughout the world, the eight students and young professionals selected as part of the tenth class of Helton Fellows each receive micro-grants of $2,000 to pursue fieldwork in or research on issues involving human rights, international criminal law, humanitarian affairs, and other areas of international law.
Balser will work with the No Peace Without Justice International Criminal Justice Program's Syrian Accountability Project, which is currently working to "reduce the expectation and rewards of impunity and build a culture of accountability" among the Syrian population by assisting with training and advocacy events in Gazientep, Turkey. "James is also supporting the work of the Syrian Commission for Justice and Accountability documenting war crimes committed during the war in Syria," said Michael A. Newton, professor of the practice of law, who assisted with Balser's placement. "Helton Fellowships are highly prestigious, and I'm extremely pleased he will have an opportunity to participate in this important project."
ASIL established the Helton Fellowship Program in 2004 in honor of Arthur C. Helton, an internationally renowned lawyer and advocate for the rights of refugees and internally displaced persons. Helton died in the August 19, 2003, bombing of the United Nations (UN) mission in Baghdad.
Helton Fellows undertake their fellowship fieldwork and research in association with established educational institutions, international organizations, or non-governmental organizations. In addition to Balser's work with No Peace Without Justice, Helton Fellows are working with the Iraqi Refugee Assistant Project in Amman, Jordan; the American Bar Association Center for Human Rights; the Calcutta Research Group in India; Asylum Access Thailand; the Centre for Microfinance and the Vidhi Centre for Legal Policy in New Delhi, India; and researching the "Arab Spring" movement and the impact of Turkey's recent comprehensive immigration legislation and its transition to its own asylum adjudication system amidst ongoing humanitarian crises along its borders.
Commenting on the tenth anniversary of the Helton program, ASIL Executive Director Elizabeth Andersen said, "There is much the society does of which I am enormously proud, but the Helton Fellowship Program stands out and has particular resonance with me. Arthur was a terrific role model and mentor to me and to hundreds of other young people working in the area of international human rights, and it is that legacy which ASIL aims to perpetuate with the Helton Program today. My sincerest congratulations to the tenth set of Helton Fellowship winners."