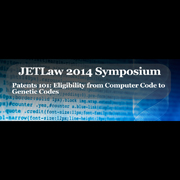 Chief Judge Randall Rader of the U.S. Court of Appeals for the Federal Circuit will deliver the keynote address at the Journal of Technology and Entertainment Law's 2014 symposium at Vanderbilt Law School on Friday, January 24.
The day-long symposium, "Patents 101: Eligibility from Computer Code to Genetic Codes," examines the interaction of Section 101, which sets forth the general requirements for a utility patent, and patent eligibility of software and DNA, as well as the implication of current jurisprudence on patent eligible subject matter. "With the recent Supreme Court decision in Association for Molecular Pathology et. al. v. Myriad Genetics, Inc. and the number of cases in recent years addressing the patent eligibility of software, Section 101 has once again moved to the forefront of patent litigation," said Brad Edmondson, JETLaw's senior technology editor.
Three panels will feature intellectual property scholars, practitioners and judges whose courts address patent cases.
Intellectual property expert Daniel Gervais, who directs Vanderbilt's Intellectual Property Program, will moderate a panel addressing "Limits on Patentability." Presenters include Margo Bagley of the University of Virginia School of Law, Cynthia Ho of Loyola University-Chicago, Mark Janis of the University of Indiana Maurer School of Law, and Kathry Strandburg of New York University.
Judge Kent A. Jordan of the U.S. Court of Appeals for the Third Circuit will moderate a "Software Patents," and "Gene Patents." Panelists include Julie Samuels '05 of the Electronic Frontier Foundation, an intellectual property think-tank and advocacy group; David Olson of Boston College, and Michael Risch of Villanova University.
Patent law expert Sean Seymore of Vanderbilt will moderate a panel addressing "Gene Patents" that includes Jonas Anderson of American University Washington College of Law, Tim Holbrook of Emory University, Chris Holman of the University of Missouri-Kansas City, and Jacob Sherkow of Stanford University.
Former U.S. Patent and Trademark Office Solicitor John Whealan will also lead a discussion.
The symposium begins at 9 a.m. Friday, January 24, is free and open to the public. More information is available on the symposium website.