Larry Crane-Moscowitz '16 and Alex Vey '16 are the winners of the 2015 Bass Berry & Sims Moot Court competition, held February 6 in the law school's Flynn Auditorium.
Crane-Moscowitz and Vey argued as the petitioners against finalists Travis Gray '16 and Andrew Struckmeyer '16 arguing for the respondents.
Presiding over the competition's final round were Judges Raymond J. Lohier Jr. of the U.S. Court of Appeals for the Second Circuit, Stephanie B. Thacker of the U.S. Court of Appeals for the Fourth Circuit and John M. Rogers of the U.S. Court of Appeals for the Sixth Circuit. The three judges also participated in a panel discussion focusing on judicial clerkships earlier on Friday moderated by Professor and Clerkship Program Director Michael Bressman.
Sixty-nine teams of two students each—a total of 138 second-year students—entered the competition, which began in September when the problem was distributed. The competition is organized and run by Vanderbilt's Moot Court Board, headed by Chief Justice Kendra Key '15.
The Bass Berry & Sims Moot Court Competition traditionally addresses a First Amendment issue, and the 2015 problem explored the question of whether public school officials may categorically ban students' ambiguously lewd speech when the speech also carries a political message. The case hinged on a school district's decision to ban stickers that displayed the slogan "Screw Hate, Don't Discriminate." Students wore the stickers in support of a local ordinance prohibiting discrimination on the basis of sexual orientation. The school district instituted the ban in the wake of several disturbances after it learned that a group of sticker-wearing students planned to boycott an assembly during which the mayor—a staunch conservative and opponent of the ordinance—delivered a talk unrelated to LGBT issues.
Competitors were required to first argue for the proper standard the Court should apply and then whether the school district's actions were constitutional under that standard. Robin Frazer '15 (BA'12) was the executive problem editor for the 2014-15 competition, and Jared Davis '15 and Sean Hastings '15 served as associate problem editors.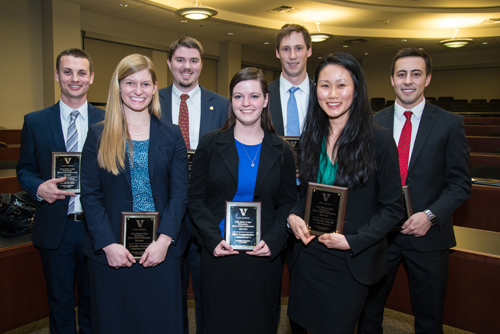 Quinton Thompson '15, executive justice for the intramural competition, also presented awards for Best Brief to Lucas Anderson '16 and Scott DeAngelis '16, Best Oralist to Calvin Cohen '16 and Best Appellate Advocate to Alex Vey '16. Semifinalists included Team 62, Andrew Albaugh '16 and Jennifer Stanley '16 and Team 65, Michelle Huynh '16 and Mary Longenbaker '16.