ACLU attorney James Esseks to speak about Windsor case and LGBT rights
Feb 4, 2014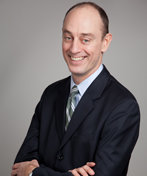 James Esseks, a top ACLU attorney who played a pivotal role in the Supreme Court's recent decision striking down portions of the federal Defense of Marriage Act, is Vanderbilt Law School's 2014 Social Justice Fellow.
Esseks, who is director of the LGBT and AIDS Project of the American Civil Liberties Union, will speak from noon to 1 p.m. Tuesday, February 11, in the law school's Flynn Auditorium.
In his talk, "The Road to Windsor: Marriage and the Broader Struggle for LGBT Rights," Esseks will discuss the plan for achieving the freedom to marry for same-sex couples nationwide. He will also speak on where marriage fits into the larger agenda of LGBT rights, including employment discrimination, parenting rights, transgender equality and school bullying.
Esseks' February 11 talk is free and open to the public. No reservations are required. Lunch will be served.
In a landmark ruling last year (United States v. Windsor), the U.S. Supreme Court ruled in favor of Edie Windsor, Esseks' client. Windsor was legally married in New York State but, because the U.S. government refused to recognize the marriage under the Defense of Marriage Act, was forced to pay federal estate taxes upon the death of her wife. The court sided with Windsor's contention that such discrimination against same-sex unions was unconstitutional.
Each year, Vanderbilt's Social Justice Program sponsors a Social Justice Fellow who visits the law school to deliver a talk and meet with students interested in careers in public interest law. Previous Social Justice Fellows have included Stephen Bright of the Southern Law Poverty Center and Yale University, Make the Road New York founder Oona Chatterjee and ACLU Immigrants' Rights Project director Cecillia Wang.
"We are very honored to welcome James Esseks in the wake of his history-changing victory in Windsor," said Social Justice Program Director Terry Maroney. "Esseks may be the toast of the town now, and rightly so, but he has been steadily toiling in the trenches for a long time to make this civil rights breakthrough possible. Our community will be greatly enriched by his presence, and we are proud to welcome him to Vanderbilt and to Tennessee."
---