Al Dotson Jr. '87 to be appointed to Advisory Commission on Educational Excellence for African Americans
Jan 17, 2014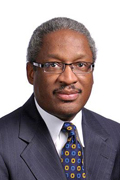 Al Dotson Jr. '87 is one of 15 designated appointees to the President's Advisory Commission on Educational Excellence, the White House has announced.
"The Commission is charged with strengthening the nation by improving educational outcomes for African Americans to ensure that all African Americans receive an education that prepares them for college, productive careers, and satisfying lives," stated the January 17 White House announcement. "This mission is part of the Administration's broader mandate to restore the country to its role as the global leader in education."
Dotson earned his undergraduate degree at Dartmouth College before earning his J.D. at Vanderbilt. He has been a partner of Bilzin Sumberg Baena Price and Axelrod in Miami, Florida, where he currently leads the firm's government relations and land development practice group, since 1998. Before joining Bilzin Sumberg, Dotson was a partner at Eckert Seamans from 1995-98. He was an associate at Jenner & Block from 1990-93 and an associate at Fine Jacobson Schwart Block & England from 1987-90.
Dotson was national chairman of 100 Black Men of America Inc., a men's civic organization founded to mentor, educate and empower African American youth, from 2004-13. Before that, he was the organization's vice chairman from 1996 to 2004. He continues to serve on the organization's board as chairman emeritus. He became a member of 100 Black Men of America in 1989, when he was elected founding president of his local chapter, 100 Black Men of South Florida Inc. He served as president of the South Florida chapter for 10 years.
In 2009, Dotson was chosen as a member of the Florida Federal Judicial Nominating Commission, a statewide panel charged with selecting finalists for presidential appointments to district judgeships, U.S. attorneys, and U.S. marshals. He was reappointed in 2013 to a third two-year term.
---