Daniel Gervais appointed to Milton R. Underwood Chair in Law
Nov 29, 2017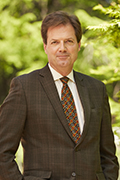 Daniel Gervais, an expert in international intellectual property law, has been appointed to the Milton R. Underwood Chair in Law.
A native of Canada who speaks four languages fluently, Gervais joined Vanderbilt's law faculty in 2008 from the University of Ottawa, where he was acting dean of the common law section. In 2012, he became the first North American law professor admitted to the Academy of Europe; he is also a member of the American Law Institute, where he serves as Associate Reporter on the Restatement of Copyright Project. Gervais was also recently awarded a two-year, part-time chair at the University of Amsterdam. He began his career working in the policy sphere at the World Intellectual Property Organization, and the World Trade Organization. As a young lawyer, he was in the room as the TRIPS Agreement, which governs international intellectual property rights, was negotiated. He has since written a definitive commentary on the agreement, which he updates on an ongoing basis.
Gervais's book, (Re)Structuring Copyright, published by Elgar in 2017, proposes an overhaul of international copyright law to bring copyright into the 21st century, where many works exists solely in various electronic formats. He began a two-year term as president of the International Association for the Advancement of Teaching and Research in Intellectual Property (ATRIP).
Gervais joins a long line of distinguished scholars as holder of a Milton R. Underwood Chair in Law. The founder of a successful investment banking company in Houston, Milton Underwood '28 was a significant benefactor of Vanderbilt Law School, contributing generously to support the construction of the original law school building in 1962. He also was a member of the university's Board of Trust from 1954 to 1973 and a life trustee from 1973 until his death in 1982. The original Milton R. Underwood Chair was endowed by the Fondren Foundation, which was established by the family of Underwood's wife, Catherine Fondren Underwood.
Gervais's chair is one of two additional Milton R. Underwood chairs created in 2011 through growth of the university's endowment. Chris Slobogin holds a Milton R. Underwood Chair in Law, and Margaret Blair holds the Milton R. Underwood Chair in Free Enterprise.
---