Edward K. Cheng appointed to Tarkington Chair of Teaching Excellence
Apr 30, 2014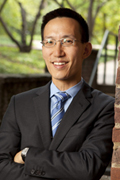 Edward K. Cheng has been appointed to the Tarkington Chair of Teaching Excellence, a three-year rotating appointment that recognizes outstanding classroom teaching.
Since joining Vanderbilt's law faculty in 2010, Cheng has won three Hall-Hartman Teaching Awards, one for his first-year Torts course and two for his upper-level Evidence course.
A cum laude graduate of Harvard Law School, Cheng recently earned a master's degree in statistics at Columbia University and is now a Ph.D. student in Columbia's Department of Statistics. He earned his undergraduate degree in electrical engineering summa cum laude at Princeton, where he also earned a certificate in the Woodrow Wilson School for Public and International Affairs. He is one of five co-authors of a major treatise, Modern Scientific Evidence: The Law and Science of Expert Testimony, published annually by Thomson West, and his scholarly articles have been published in the Yale and Duke law journals and the Columbia, Michigan, University of Pennsylvania, Stanford, Northwestern University, Virginia and Minnesota law reviews.
Cheng approaches the study of evidence law from both a mathematical and a public policy perspective. His current research also combines these features, focusing on the interaction between law and statistics in scientific and expert evidence. In a recent article, "Reconceptualizing the Burden of Proof," published in the Yale Law Journal in 2013, Cheng asserts that the preponderance standard used in civil cases—which requires judges and juries to be at least "51 percent sure" the evidence supports the plaintiff's claim to rule in his favor—is incorrectly conceived because it establishes an "absolute probability threshold" of 50 percent. He proposes approaching the preponderance standard instead as a comparative one involving probability ratios. "Judges and juries would thus merely decide which story is more likely to be true:  the plaintiff's or defendant's," Cheng said.
"An absolute probability threshold of 50 percent only works if the plaintiff presents only one story that demonstrates the defendant's liability, and the defendant then only attempts to poke holes in the plaintiff's story," Cheng said. "But this isn't how trials are structured, and it's not how most cases go. Plaintiffs and defendants offer opposing stories, and juries compare the two stories and decide which one is more probable. Reconceptualizing the burden of proof as a comparative rather than absolute endeavor also solves a number of evidentiary `paradoxes,' and brings legal proof into line with the hypothesis testing in science."
Cheng is the fifth member of Vanderbilt's law faculty to hold the Tarkington Chair, joining Thomas McCoy, Richard Nagareda, Michael Vandenbergh and Tracey George.
The chair was endowed in 1998 by Carlton B. Tarkington '63 (BS'59), Vanderbilt Law School's 2011 Distinguished Alumnus. Tarkington retired from a successful career as an executive with West Publishing and then founded Edinburgh Investments, an investment banking firm, in 1996. He has since founded two banks, the Bank of Bellevue and PrimeTrust Bank, which merged with Bank of the South in 2006.
Tarkington served on the law school's Board of Advisors when it was known as the National Council. He also endowed the law school's Tarkington Suite, which includes the library's reading room, a computer lab and a computer room.
"From the moment he set foot on our campus, it was clear that Professor Cheng would join the ranks of the best among the best," said Lisa Bressman, associate dean for academic affairs, who holds the David Daniels Allen Distinguished Chair of Law. "The law school prizes itself and is known for teaching excellence across the board. To distinguish yourself among such strong teachers, as Professor Cheng has, is an amazing accomplishment, appropriately marked by the generous chair endowed by Mr. Tarkington."
---