For the Record: Mitch Glazier '91, rising CEO of the Recording Industry Association of America, wants to be the change agent for the record industry's next era
By Glenn Peoples (MBA '08)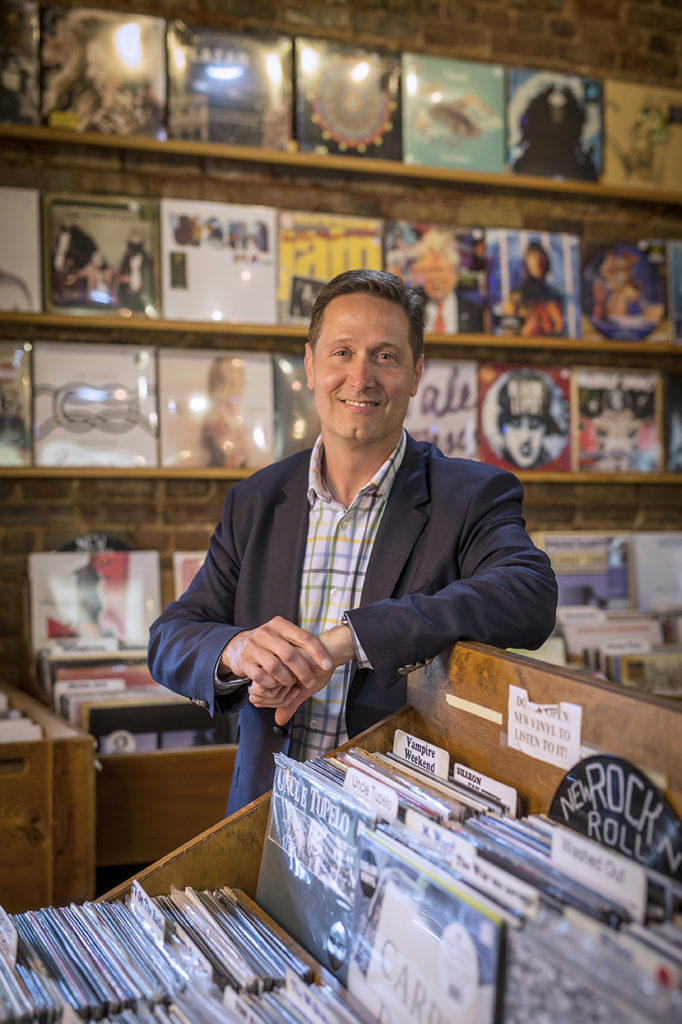 Mitch Glazier still has a purist's view of the law after more than two decades in Washington, D.C. "It's a civilized way to try to win a fight," he says from his office a few blocks east of the White House.
Ironically, Glazier represents the recorded music business, an industry known for the occasional tussle. On Jan. 1, 2019, he will become CEO of the Recording Industry Association of America, the trade group that represents record labels' business and legal interests in the nation's capital.
The RIAA works to foster a healthy environment for its member record labels. Twenty years ago, CD piracy was the scourge of the record business, and recently updated copyright law was becoming outdated. Fifteen years ago, file-sharing and other forms of illegal distribution were eroding music sales. Today, the digital music business wants a new architecture that will bring licensing and royalties into the streaming era. Glazier seems undaunted by the pressure. He's innately upbeat and often ends a sentence with ebullient laughter.
But being CEO carries the weighty expectations of an industry on the rebound. After peaking in 2000, the U.S. record industry's revenues tumbled as far as 60 percent before recovering in the last two years. Digital music's early days were a mixed bag. The internet led to iTunes and Spotify but also to Napster and many of other sources of pirated music. All the while, thousands of brick-and-mortar retail stores shuttered as consumers switched from CDs to digital formats. Now, streaming services such as Spotify, Apple Music and Amazon Music have carried the industry for two straight years of double-digit growth.
Washington Calling
Few people have had as much influence on the digital entertainment industry as Glazier. He first made an impact not long after graduating from Vanderbilt Law School in 1991, at a time when the internet—and the challenges it posed to copyright law—were little understood by the general public. As special counsel and copyright counsel for former Rep. Henry Hyde (R–Ill.), who was then the chairman of the House Judiciary Committee, Glazier helped craft the Digital Millennium Copyright Act, an attempt to update copyright law for the digital age.
In the mid-90s, digital service providers were worried they would be responsible for their users' copyright infringement—hosting copyright-protected music, for example. The DMCA legally protected DSPs if they removed infringing content when notified by rights holders, or when they gained knowledge of the infringement. Years later the DMCA's rules would effectively help create and sustain YouTube.
But less than two years after the DMCA's passage, its notice-and-takedown system was "rendered useless by a new technology that nobody could foresee coming," explained Glazier: the peer-to-peer file-sharing service Napster.
A native Chicagoan, Glazier found his calling while majoring in social policy at Northwestern. He interned for Judge Frank McGarr of
the Federal District Court for the Northern District of Illinois. McGarr asked Glazier if he planned on attending law school and suggested Vanderbilt.  "Vanderbilt does have a different culture," said Glazier. "As far as a law school can be friendly and nurturing and still tough, somehow they thread the needle at Vanderbilt."
After graduation, Glazier returned to the Federal District Court for the Northern District of Illinois to clerk for Judge Wayne Anderson for two years. He next spent two years as a commercial litigator at the Chicago firm Neal Berger & Eisenberg.
The move to Washington was unexpected. In the fall of 1994, Republicans took over the House of Representatives and Henry Hyde, Glazier's congressman while growing up on the West Side of Chicago, became head of the powerful House Judiciary Committee. Hyde asked Glazier, who had previously volunteered at Hyde's district office, to join his team. Glazier jumped at the opportunity.  "I quit the law firm, proposed to my girlfriend, broke my lease, and moved to Washington—and was scared to death," Glazier recalled with a chuckle. But joining Rep. Hyde's staff was a natural culmination of education and work experience. "I had obviously always been interested in policy and government service," he added.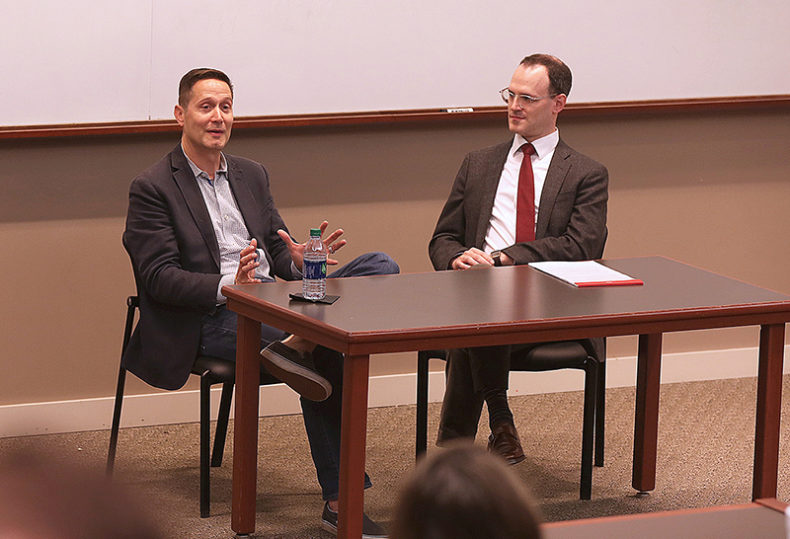 A More Effective Marketplace
Following the DMCA, Glazier expected a respite when he joined the RIAA in 2000. "I thought, you know, hey, at least I won't have to work on these contentious issues anymore," he says. But the RIAA would spend the next decade-plus fighting Napster and the whack-a-mole piracy game that stretched to online storage lockers and pirate streaming sites.  "I loved putting together a campaign that had a legal and litigation component, a policy component, and a communications and education component," he says. "And trying to put all the pieces together, so they complemented each other—and with very few resources—on a very high-profile issue."
Napster and file-sharing dominated the music industry's bandwidth in the 2000s. Record labels' legal efforts helped stop the first, illegal incarnation of Napster in 2000. Other file-sharing services spread quickly, however, until the Supreme Court's 9–0 decision in MGM Studios v. Grokster came in June 2005. Nonlegislative matters then dominated the next decade.
Glazier played a major role in fighting piracy on numerous fronts: education campaigns on college campuses, reaching anti-piracy agreements with major internet service providers, helping remove illegal music apps from app stores, and getting payment processors to cut off operators of illegal download sites. From Napster to lawsuits against individual file sharers, the RIAA earned some enemies while defending the value of record labels' products.
"If you're a good trade association," says Glazier, "your job is for people to hate you and not your companies."
Now Glazier is helping create a more effective marketplace for music streaming services, as the RIAA has an opportunity to pass significant legislation in 2018. Rep. Bob Goodlatte (R–Va.) voiced his desire to update copyright law when he became chairman
of the House Judiciary Committee in 2013. Multiple bills have been introduced covering issue from federalization of pre-1972 copyright protection to a change in the royalties from satellite radio companies. (SiriusXM is the only one currently in business.)
Perhaps the most important improvement Glazier advocates is a more streamlined approach for licensing music that is conducive to an era of streaming services with catalogs with more than 30 million recordings. Today's licensing structure burdens digital services while creating uncertainty for record labels. The business of tomorrow, perhaps a music-driven virtual reality experience, will need a more straightforward licensing process. Glazier is hopeful the bills can get a vote before Congress.
"Intellectual property is the one area on the [judiciary] committee that is completely bipartisan," Glazier explains. "It always has been. I think that's one of the reasons the members like it so much. It can still be very contentious, but that's based on constituents and not on politics."
The record business of 2000, Glazier's first year at the RIAA, is hardly recognizable today. iTunes was three years away. Streaming with then-slow internet connections was far from being a threat to the industry's core CD business. When pondering his future reputation, Glazier wants to be the change agent for the record industry's next era.
"If I get to be the guy," he says, "who's at the helm to put in some basic certainty and licensing and legal structures that allow them to use all of these new great apps, that would be pretty awesome."
Glenn Peoples is a writer specializing in music insights and analytics for Pandora Media. He earned his MBA from Vanderbilt's Owen Graduate School of Management in 2008.
---