High ROI: Earning Both a J.D. and an M.B.A. Yields High Returns
By Grace Renshaw
Since its inception in the 1970s, Vanderbilt's J.D./M.B.A. dual-degree program has attracted students who invest an extra year of study because they see value in learning to "speak the language" of law and business before they enter the workforce.
The J.D./M.B.A. graduates profiled in this section—including one Vanderbilt lawyer who earned his M.B.A. through Owen's Executive M.B.A. program—have flourishing careers in the financial sector, in corporate legal departments, at law firms and as entrepreneurs.
Navigating the contrasting cultures of law school, where individual performance is emphasized and rewarded, and business school, where teamwork and collaboration are essential to success, added an unexpected perspective to their educations.
All believe that investing in an extra year of study yielded great returns by expanding their career options and broadening their outlooks.
---
Dean Kim, J.D./M.B.A.'97, General Counsel, North American Business Units, Bridgestone Americas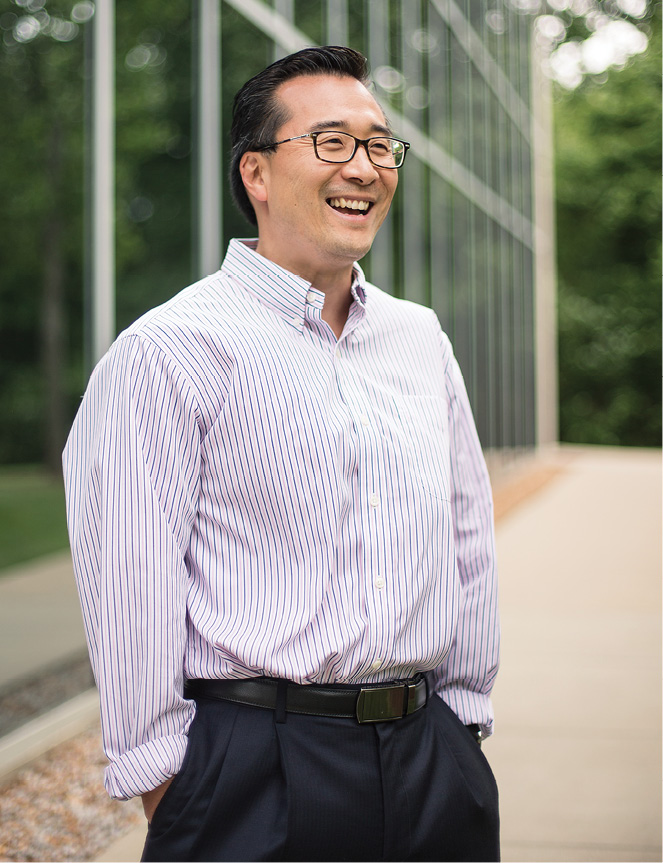 The J.D./M.B.A. Dean Kim earned at Vanderbilt in 1997 was an excellent preparation for his current position, where he uses both his legal and management expertise. Since June 2014, Kim has managed the legal departments of four different Bridgestone subsidiaries. He had spent the three years before his promotion last June leading the company's corporate compliance programs.
Kim's decision to earn a J.D./M.B.A. was cemented during his first year of law school. After graduating from the University of Chicago, Kim scored well on both the LSAT and the GMAT, prompting him to consider a dual degree. He chose Vanderbilt because he could earn a J.D./M.B.A. at top law and business schools that were immediately adjacent to each other.
Kim initially applied only to law school, and his desire to earn the dual degree was confirmed during his first year. Finding his 1L classes "consistently rote in their approach," he then applied to Owen. "I was hoping to get a year's reprieve from studying law." His classes at Owen added a welcome balance, enabling him to get more out of his coursework at both schools. "I really enjoyed studying law and business together," he said. "The diversity of classes and approaches was really helpful."
After graduating with his J.D./M.B.A. in 1997, Kim joined Bridgestone as a senior environmental engineer. A year later, he became the controller for its legal department. He joined the company's legal department just two years later.
Kim's switch to legal work was a direct result of a lunch with Jim Vines, then Bridgestone's general counsel of environmental affairs, arranged by Owen Professor Marc Cohen because he thought both men would benefit from knowing each other. Vines, who later taught environmental and OSHA law at VLS as an adjunct professor, wanted to assess Bridgestone's risks for natural resource damage claims brought against its various operations by state governments. "This was a brand new area of law resulting from the Exxon Valdez accident," Kim recalled. "Bridgestone operates in almost all 50 states, and they were trying to get their arms around its implications for them. They offered me an opportunity to take the lead on addressing pollution issues early in my career. I wanted to dive in and see what I could do."
After Kim transferred to Bridgestone's legal department, he began a comprehensive survey of the company's operations and applicable state laws throughout the United States. The project cemented his interest in legal work as well as his reputation as a capable project manager. After six years, he was named Bridgestone's general counsel for labor and employment, a role he filled for five years before becoming the company's general counsel for corporate compliance and international law. "As an in-house lawyer, you tend to have more of a diversity of experience and opportunity," Kim said. "That has energized me throughout my career."
Thanks to his M.B.A., Kim understands the perspectives of managers of Bridgestone's business units and finances. But he credits his law degree with giving him the insights required to manage Bridgestone's legal department. "Managing lawyers is a lot different from managing other departments—it has its own set of challenges," he said. "You have very well-educated, intelligent employees who are ambitious, and it's important to make sure they feel satisfied in their work. It's important to have gone through the law school experience to manage lawyers, because you understand what's driving them and how to motivate them."
---
John Hand, J.D./M.B.A.'95, Founder, Iron Bridge Capital Partners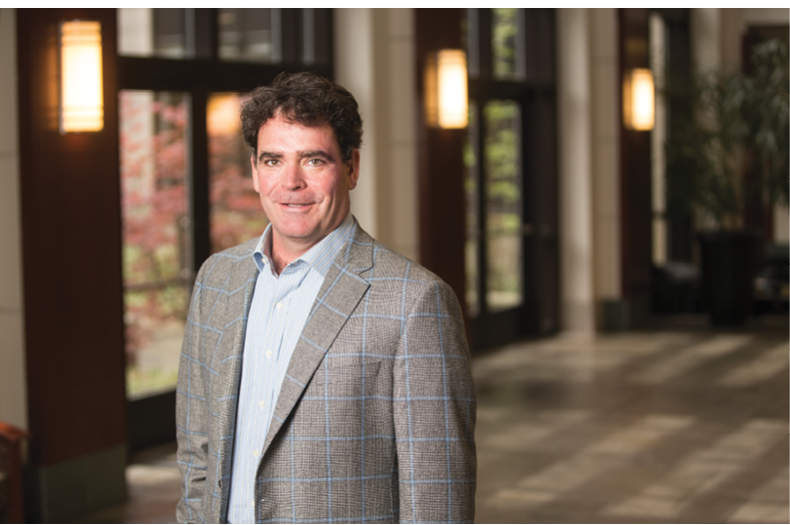 In 2001, John Hand and his partner, Rick Inman, set out to start a private equity and development firm with the goal of "placing ethics and integrity ahead of profit and percentages" while making sound real estate investments in the Southeast. Their timing was unfortunate. "We were literally on the phone negotiating the details of a major investor relationship when the first plane hit the World Trade Center on September 11," Hand recalled. "The stock market crashed, and our investor pulled out of our partnership along with every transaction they were considering at the time. But we were getting traction, so we went ahead and hung our shingle, and we ultimately found more investors."
Iron Bridge's investments include retail, condominiums and residential lots. The firm also has developed a niche for what Hand calls "nontraditional assets," including affordable housing and public/private partnerships, beginning when Iron Bridge was invited to join a partnership to acquire a power plant in Guam in the wake of the Enron bankruptcy, when many investors and lenders were queasy about investing in utilities. Hand realized the plant had a favorable long-term contract with the local power authority, a solid infrastructure and a strong operating history. "You don't have to be an expert in power assets to understand risk allocation," he said. Iron Bridge successfully ran the plant for a dozen years before selling it this year.
Hand and Inman saw other development opportunities in Guam, including a need for affordable housing. The large military population made the cost of housing too high for many locals. Iron Bridge kick-started Guam's affordable housing industry and has since developed hundreds of units on Guam and Saipan. Iron Bridge also has partnered with the government of Guam to finance, design and build four new schools, including a high school with over 2,000 students.
After receiving a bachelor's in business administration from the University of North Carolina at Chapel Hill, Hand set out to earn a dual degree. He knew he was more entrepreneurial than his law school classmates, and he chose Vanderbilt because the J.D./M.B.A. program offered a clear advantage: Owen would accept him without any prior work experience. "Vanderbilt had coordinated their program so that Owen waived their work requirement for J.D./M.B.A. students," he said.
After earning his J.D./M.B.A., he spent three years at King & Spalding in Atlanta. "I learned the whole cycle of a real estate transaction at a great law firm," he said. "When I reached the point where most of the work was familiar, I started listening to offers to focus on real estate's business side." His real estate experience and dual degree helped him land a position with Westbrook Partners in New York, where he underwrote and evaluated global commercial real estate acquisitions on behalf of a multibillion-dollar family of real estate funds and gained the experience he needed to start his own firm.
Hand enjoyed the blend of law and business classes while he earned his dual degree, and he applies both skill sets in his daily work. "My law degree often comes into play," he said. "I am the go-to person to review and negotiate documents. Is the deal structured properly? Have we thought about the right things? Are we getting good legal work for what we're spending? I'm fortunate to have the right combination of law and business experience for a transaction-oriented firm like Iron Bridge."
---
Jon R. "Jay" Harris Jr., J.D./M.B.A. '84 (BA'80), Partner, King & Spalding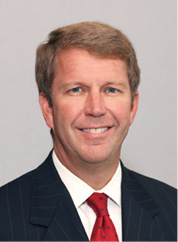 Jay Harris came to Vanderbilt as an undergraduate to study economics, already interested in law school. He had worked for a law firm in his hometown of Tullahoma, Tennessee, and served as a page for U.S. Congressman Joe L. Evins (BA'33) during high school. But his economics classes also piqued his interest in business. "My first thought was that I might do business law," Harris recalled. Then he learned about Vanderbilt's J.D./M.B.A. program.
The program available to Harris and the handful of his classmates who pursued a J.D./M.B.A. in the early 1980s was "little more than a set of requirements to earn both degrees," he recalled. "You navigated it yourself with little help from either school, and that made it challenging. You had to work out the logistics of classes, and there were some timing differences between Owen and the law school." Harris spent his first year at Owen and then started his J.D. "That meant I graduated from law school with the same people I went through first-year law classes with, which is important, because you definitely bond with your classmates and make lifelong friends during your first year of law school," he said.
After graduation, Harris began working on health care transactions—now the major focus of his practice—almost immediately after joining King & Spalding in Atlanta. "I started off in the corporate department, but early on, I worked with a senior partner whose principal client was a health care company," he said. In 2008, Harris became head of the firm's newly formed health care practice group. He now co-leads a 160-attorney section that also serves clients in the pharmaceutical and biological sciences industries.
His M.B.A. enabled him to communicate effectively with corporate clients from day one. "When you first get out of law school, you're still learning to be a lawyer, but I already understood the language of business and didn't have to learn that at the same time," he said. "I could read and understand balance sheets and income statements, which helped me in discussions with clients. I don't know if having an M.B.A. as well as a J.D. helped me get a job, but I do think it had a positive impact on my job performance."
---
Tim Kinskey, J.D.'90, E.M.B.A.'99, Senior Corporate Counsel, Caterpillar Inc.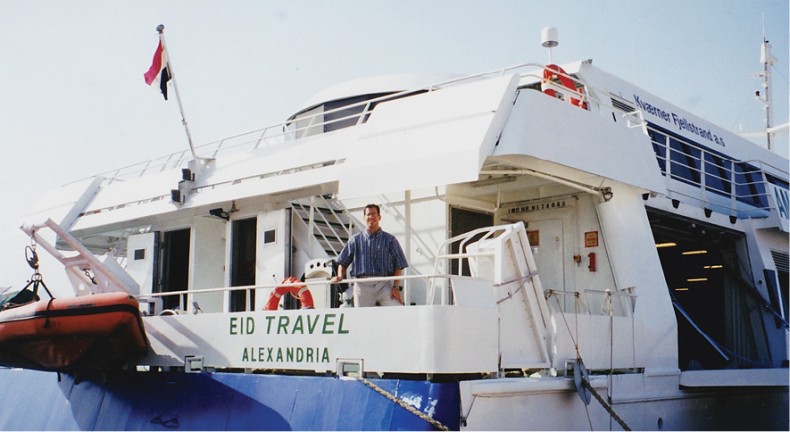 Tim Kinskey had started down the track toward a traditional law firm career handling corporate transactions when he received a call from a recruiter about joining the in-house legal staff of Caterpillar Financial in Nashville. Kinskey, then an attorney with Parker Poe Adams & Bernstein in Charlotte, North Carolina, realized the move to Caterpillar would enable him to achieve a cherished goal: earning an M.B.A. "Caterpillar is very supportive of lawyers getting an M.B.A.," he said. "After college, I had been torn between law and business school. I chose law school, but in the back of my head, I'd always wanted to get an M.B.A., and I'd always envisioned going back to Vanderbilt. The opportunity seemed almost too good to be true."
Kinskey started the program in 1997 and found the stress of working full-time as a corporate lawyer while spending his nights and weekends working on his M.B.A. made more bearable by his team of four classmates. "You were locked arm-in-arm with your group partners through business school," he said. "We had to apply the principles we were learning about management and organizational behavior within the context of our group—it was a beautiful microcosm of what you experience in the real world, where you work every day with people you might not choose to be your partners and you find ways to succeed together."
At Parker Poe, Kinskey had focused on real estate and financial transactions. His work at Caterpillar involved financing ship construction to support the sale of Caterpillar's massive marine engines, and he traveled to Egypt, Turkey, Argentina, Uruguay and Germany to negotiate loan documents with shipbuilders and owners. "The engine may represent 5 to 10 percent of the ship's value, but the owner needs financing for the whole vessel," Kinskey explained. His travel coincided with his time as an M.B.A. student. "If my group partners, my wife and my boss were equally unhappy with me, I knew I was probably balancing my time pretty well," he joked. "I managed to keep them all pretty happy."
After finishing his E.M.B.A., Kinskey went to Germany, where one of his three children started kindergarten, on a temporary assignment and later spent four years in Geneva, Switzerland, as Caterpillar's M&A counsel for Europe. He moved back in 2007 to Caterpillar's corporate headquarters in Peoria, Illinois, where he now leads a team of lawyers and paralegals supporting mergers, acquisitions and joint ventures worldwide. "I'm the global process owner, which means that all our M&A practitioners work with me to ensure we provide consistent support and apply the same processes to our business units around the world," he said.
Kinskey has fond memories of law school and his Executive M.B.A. experience. "Jeff Shoenblum was a great teacher," he said. "His Drafting and Negotiation of Corporate Documents class helped me start my career." In addition to teaching him the importance of teamwork, his Owen M.B.A. expanded his career options. "My M.B.A. made me eligible for more and different positions," he said. "It helped me become a managing attorney, where I apply my management training with the people for whom I work and my staff of attorneys. It also helps me serve my clients better, because I understand what my clients are trying to do to meet their strategic goals and how financial statements work. I can speak their language."
---
Brad Williams, J.D./M.B.A.'94, Managing Director, Tudor Investment Corporation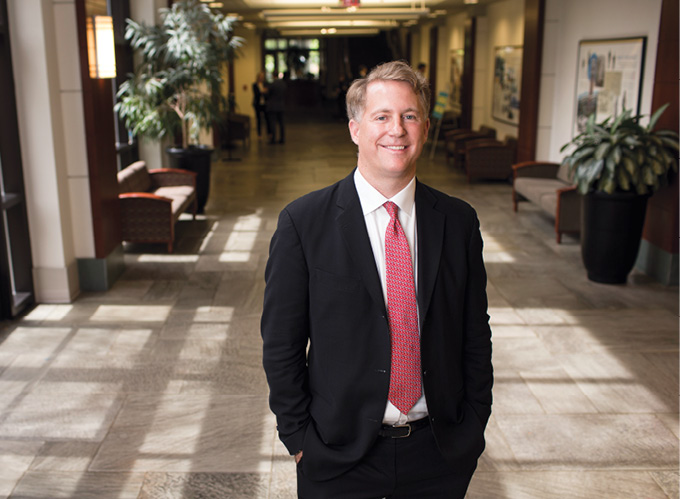 Brad Williams, who comes from a line of Oklahoma lawyers three generations long, initially planned to follow in the family footsteps, even spending two summers clerking at firms in his hometown of Tulsa.
But a talk at Owen on careers in financial services by Henry Levy, the executive who then managed Goldman Sach's Memphis office, kindled Willams' desire to pursue finance. "Henry always projected an aura of confidence and success, and his successor, Grant Minor, was equally impressive," Williams recounted. A summer internship at the American Stock Exchange in 1993 sealed the deal. "I was drawn to the markets after my summer in New York, and I never looked back," he said.
After earning his J.D./M.B.A., Williams accepted a job with Goldman Sachs Asset Management in Chicago. But he first passed the Oklahoma bar before joining Goldman in fall 1994. "GSAM had an ambitious growth plan, and I took a sales position in Chicago covering states in the Midwest," he said.
Williams rose quickly at GSAM. In two years, he moved to the firm's New York office. "New York was the center of gravity for the business, and my team had a real sense of purpose," he recalled. He became a Chartered Financial Analyst in 1999 and then moved into a product management role in Goldman's private equity group. In 2003, he took a similar position in the firm's hedge fund strategies group.
When Tudor Investment Corporation called Williams in spring 2007 with a job offer, he was excited about the opportunity. "Tudor was creating a product development department to raise capital and launch new strategies," he said. "I had a great 13-year run at GSAM, but the Tudor job gave me the opportunity to work for Paul Tudor Jones, a hedge fund icon." Williams now serves as a managing director and head of product development at Tudor.
Williams credits Owen for "giving a politics major a strong business background" and the law school for teaching him to analyze issues. "Law school taught me how to consider both sides of an issue carefully instead of jumping to a quick conclusion," he said. "It also sharpened my commercial skills. Jeff Schoenblum taught Business Transactions and was well-known for his real-world approach to negotiations. He taught us that parties will act in their own self-interest, but you can achieve a good result through skillful negotiation."
Williams draws on both his J.D. and his M.B.A. in his current role. "Law is the art of persuasion, a valuable skill in any commercial setting. Whatever 'edge' I have comes from the law school," he said. "Owen piqued my interest in the markets and introduced me to people who launched my career. I feel very fortunate to call both schools home."
---
Stan Onyeador, J.D./M.B.A. Class of 2017, BA'11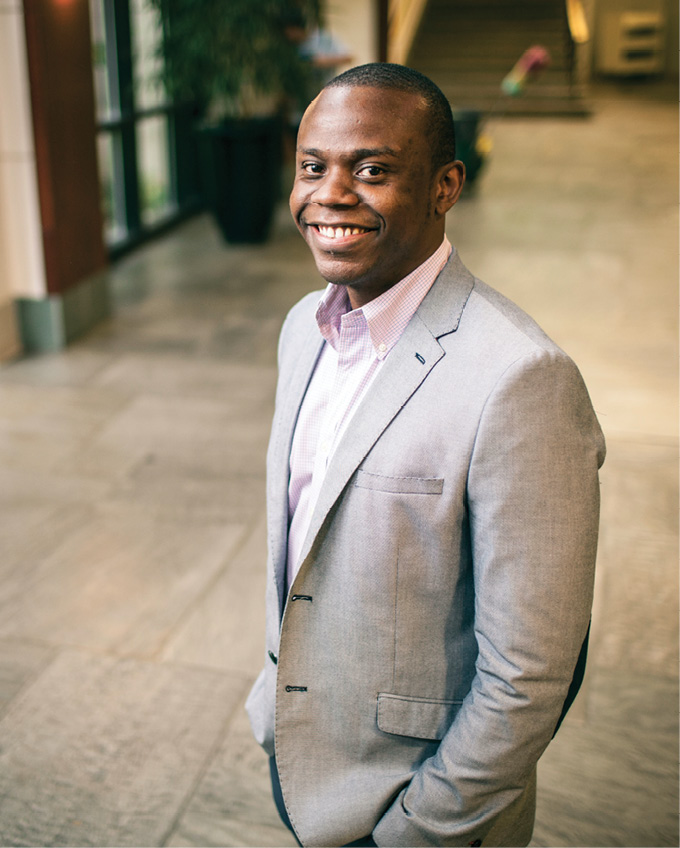 After earning his B.A. at Vanderbilt in 2011, Stan Onyeador joined Public Consulting Group, a firm that implements technology systems to help school districts manage academic and behavior plans for students. But he had a goal of an intellectually stimulating career that allowed him to have a more tangible impact on society. He realized that he needed both a J.D. and an M.B.A.. "I definitely wanted to choose a law school at a university that also had a good business school," he said. "Vanderbilt has the best of both worlds, and I loved my undergraduate experience at Vanderbilt—so that also affected my decision to become a 'Triple-Dore.'"
Onyeador enjoyed studying economics as a Vanderbilt undergraduate because "it's the analysis of society, resources, human behavior and their pragmatic implications for our everyday lives." He finds elements of that in his law and business classes. He spent his first year in law school, where he discovered that the classroom experience is critical. "You can't simply read textbooks and fully understand that area of law. You are challenged to engage, and you're much more intellectually stimulated in the classroom," he said. "After one semester, you see the world differently."
Onyeador spent the summer of 2014 as a law clerk at Orrick Herrington & Sutcliffe near his family in New York. This summer he is working as an investment banking associate with SunTrust Robinson Humphrey in Atlanta, a position he found through Owen's career recruitment. Although the 2014–15 academic year found him taking business classes at Owen, he stayed engaged in the life of the law school, including serving as treasurer for the Black Law Students Association, vice president of the Law and Business Society and 2L representative in the Vanderbilt Bar Association. "I'll graduate with this year's 1L class, but I also wanted to maintain my relationships with the law students I started with last year," he explained.
He will focus on law courses in 2015–16 and then take a mix of law and business classes during his final year. "My M.B.A. specialization is in finance and strategy, but I'm also getting exposure to leadership development skills," he said. "I think I'll be more well-rounded with both degrees."
---