Jan Witold Baran '73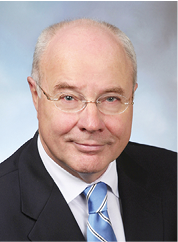 Soon after the U.S. Supreme Court announced its 5-4 decision in Citizens United v. Federal Election Commission in 2010, Jan Baran '73 endorsed the majority opinion in a New York Times opinion piece. His essay, titled "Stampede Toward Democracy," countered President Obama's prediction that the decision would result in a "stampede of special-interest money in our politics." Baran was eminently qualified to weigh in on the controversial decision. His amicus brief in the case was cited by both the prevailing and dissenting opinions.
In the four decades since his graduation from Vanderbilt Law School, Baran has become one of the nation's foremost authorities on campaign finance and election law. His book, The Election Law Primer for Corporations, a respected reference book first published by the American Bar Association in 1999, has a sixth edition scheduled for 2014. Baran is among the top tier of practitioners in his field, known for his comprehensive knowledge of election law at both the state and federal level and is consistently recognized by Washingtonian magazine on its "Best Lawyers" lists. He co-chairs the election law and government ethics group at Wiley Rein, where he has practiced for almost 30 years.
During law school at Vanderbilt, where he was a Patrick Wilson Scholar, Baran worked on the campaigns of both President Richard Nixon and Tennessee Senator Howard Baker. His political work meant he sometimes missed classes. "I had Professor (Paul H.) Sanders for labor law. He had an assigned seating chart with everyone's name and photo on it," Baran remembered. "When I went to that class after the 1972 elections, he made a show of picking up the chart and making sure it was me." A lifelong Republican, he also worked as a law clerk for then-Tennessee Governor Winfield Dunn, the state's first Republican governor in a half-century.
After law school, Baran moved to Washington planning to manage restaurants. He actually ran one in Georgetown for a time. But his active involvement in Republican political campaigns soon attracted an offer he found too good to pass up. Congress had just created the Federal Election Commission to administer and enforce the statutes governing the financing of federal elections, and the Republican Party persuaded Baran to focus on a brand new field—campaign finance regulation. "I found the work to be interesting, and decided to stay with it," he said.
That job offer changed the course for Baran's career. In the late 1970s, he was an executive assistant to the chairman at the FEC. He subsequently joined the firm that is now Wiley Rein, which recently marked its 30th anniversary. He has held a number of high-level Republican positions throughout his career. When George H.W. Bush ran for president, Baran was the campaign's general counsel. From 1989 to 1992, he was general counsel for the Republican National Committee. He also served on the 41st president's Commission on Federal Ethics Law Reform. "I was grateful for the opportunity to work with President Bush," Baran said. "He really didn't have the hard edges that many other politicians have. He still is a very thoughtful, courteous fellow." He also served on the Virginia Governor's Commission on Government Finance Reform and was a special counsel for the state attorney general in the 2005 Virginia election recount.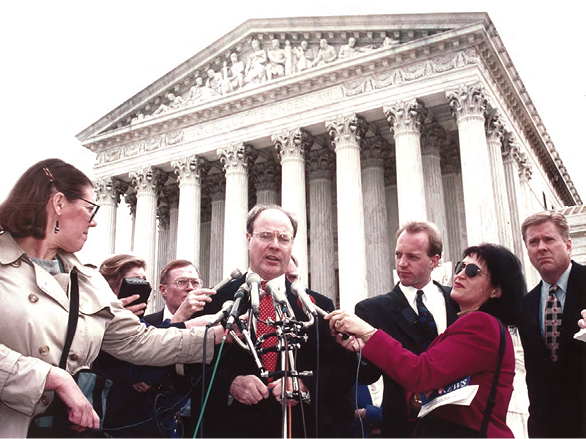 Baran has enjoyed the opportunity to take cases to the Supreme Court. He calls the Citizens amicus brief a "home run," and added that arguing cases in front of the justices is a thrill. "There's both an immediacy and a conversational aspect to it," he said. "The Court now is considered to be a 'hot bench.' The Justices ask a lot of questions, and sometimes they are asking questions to counter a question from the other side of the bench."
During his esteemed career, Baran has learned to take a longer view. From his perspective, the current turmoil in Washington isn't a cause for serious concern. "I came here during Watergate, and this doesn't seem to be worse than that," he said. "I remember the difficulty that the first President Bush had in trying to work out fiscal issues with the Democratic Congress and reneging on the 'no new taxes' pledge. I lived through the Newt Gingrich shutdown.
"There will be resolutions, and life will go on," he said. "We're still debating who the winners and losers are from events that happened decades ago. There's an anecdote: a world leader is asked what he believes Napoleon's influence on Europe was. The leader answers: 'It's too soon to tell.' History takes a long time to sort itself out."
---