Jennifer Shinall receives Vanderbilt's Chancellor's Award for Research on Equity, Diversity and Inclusion
Sep 2, 2022
Jennifer Shinall, professor of law, has received a 2022 Chancellor's Award for Research in Equity, Diversity and Inclusion in recognition of her research on laws intended to protect the rights of pregnant women in the workplace.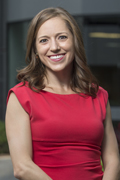 Shinall's award was announced by Chancellor Daniel Diermeier at the 2022 Fall Faculty Assembly. She was nominated for the honor by Ingrid Wuerth, who holds the Helen Strong Curry Chair in International Law and served as the Law School's associate dean for research from fall 2020 to fall 2022.
The award recognizes Shinall for her essay, "Protecting Pregnancy," published in the Cornell Law Review in 2021.
"'Protecting Pregnancy' is a sophisticated analysis of an important and complex question:  Which laws designed to assist pregnant women in the workplace actually succeed at doing so?" Wuerth said. "Jennifer uncovered important data about pregnancy and used it to design an ingenious study of laws designed to assist pregnant women in different states. Her analysis shows that laws that require employers to provide reasonable accommodations for pregnant women and family leave both work to support pregnant women, while laws requiring employers to transfer pregnant employees to open positions that are less hazardous or strenuous have unintended negative consequences."
By examining the impact of laws in various states passed at different times and in different combinations, Shinall was able to identify which laws appeared to have the greatest impact on pregnant women's ability to continue working during and after pregnancy based on their workforce participation.
Shinall's research was the focus on a Forbes article, "Which Employment Laws/Policies Actually Help Pregnant Women," and her article was also cited in a study of pregnancy discrimination in Kentucky and by national advocacy groups, including the National Partnership for Women and Families.
"With the recent overruling of Roe v. Wade, we can expect new legislative efforts regarding reproductive health and labor market outcomes for pregnant women, which makes Jennifer's work relevant and important," Diermeier said.
Shinall joined the Vanderbilt law faculty in 2013 as a research fellow after earning her J.D. and Ph.D. in Law and Economics from Vanderbilt and clerking for Judge John Tinder on the U.S. Court of Appeals for the Seventh Circuit. Her research, which focuses on discrimination in the areas of gender and disability, has been published in peer-reviewed economic journals and law journals, and examines how obesity, pregnancy and health status more generally affect labor market. She earned an A.B. in economics and history at Harvard University before earning her Ph.D. at Vanderbilt.
Shinall teaches Employment Discrimination Law and Employment Law to J.D. students and also teaches Labor Markets and Human Resources and the Ph.D. Workshop for the Ph.D. Program in Law and Economics.
---
Faculty News General News Home Page News L&G News and Events Law & Economics Ph.D. News