Michael Vandenbergh, David Daniels Allen Distinguished Chair of Law
Climate expert's scholarship focuses on the impact of private governance on corporate and individual behavior.
By Grace Renshaw
Michael Vandenbergh urged an audience of 1,000 people at Nashville's sold-out TED Expo last March to make a conceptual leap in the way they think about the response to climate change. In his 20-minute talk, Vandenbergh argued that private institutions and individuals can buy a decade of time to address climate change policy through their own efforts to reduce carbon emissions. It was Vandenbergh's first TEDx talk, and it was based on a career spent confronting what he terms "international and national gridlock" related to environmental policy as a legal scholar, policy maker and attorney.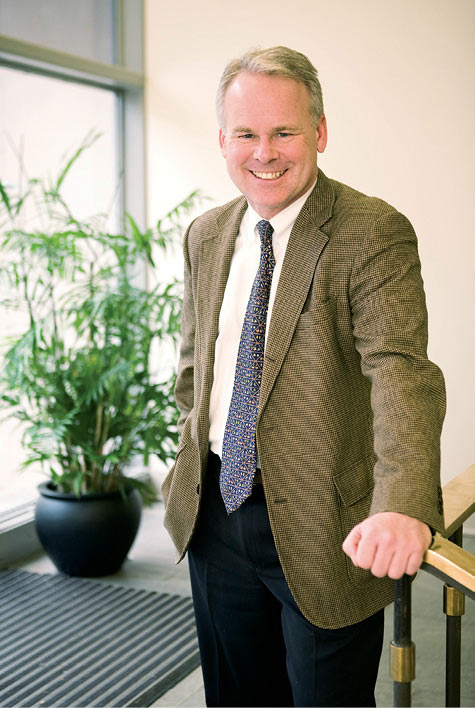 Vandenbergh's recent appointment to the David Daniels Allen Distinguished Chair of Law—one of three chairs that honor the late David Daniels Allen (BA'58), a founding partner of the Houston firm Reynolds Allen & Cook—reflects the strength of his interdisciplinary research on the increasing variety of private-governance initiatives that address environmental issues. His choice to focus on "private environmental governance" arrangements—such as environmental supply-chain contracting requirements—arose from his realization that individuals, companies and nonprofit organizations were developing their own environmental policies and initiatives in the absence of government leadership. "About two dozen major pollution control statutes were adopted in the U.S. between 1970 and 1990," Vandenbergh said. "No major pollution control statute has been enacted since 1990. That's almost a quarter of a century."
Rather than standing by while developed and developing nations failed to work together to address climate change over the last decade, Vandenbergh chose to study the opportunities that arise from the shift of environmental policy to the private arena. "The failure of the U.S., Chinese and other major national governments to work together on climate change and other environmental issues created a policy gap, and advocacy groups, corporations and individuals have stepped in to fill it," he said. "These private-governance solutions are not a complete answer—they aren't a substitute for a public response in many cases—but they can buy us time until the policy gridlock dissolves."
As Vandenbergh explains, "It's easy to fall into the trap of assuming that a large, comprehensive problem can only be addressed with a large, comprehensive government response and to assume that any other response will be trivial." In a 2009 paper published in the Proceedings of the National Academy of Sciences, Vandenbergh and a team that included a sociologist, two social psychologists and Vanderbilt Associate Professor of Earth and Environmental Sciences Jonathan Gilligan demonstrated that, even without extensive regulatory measures, people in the U.S. alone could reduce their total household carbon emissions by 20 percent by 2020—a "behavioral wedge" of emissions reductions equal to the current annual emissions of France.
When Vandenbergh left his partnership with Latham & Watkins, where he practiced environmental law, to join Vanderbilt's law faculty in 2001, he gained an important platform to study and inform the public debate about climate change. At Vanderbilt, he co-founded the Environmental Law and Policy Annual Review, a student-run journal that selects the most policy-relevant scholarship from the previous year and publishes condensed versions with commentary from policymakers and practitioners. Finding new conceptual approaches to address policy gridlock remains an important goal. "When I became an environmental lawyer, it was a public law field," he said. "There's now a growing recognition among scholars, policymakers and practicing lawyers that much of the most important activity has shifted to the private sector, and it is exciting to be exploring the theoretical and practical implications of this move toward private environmental governance."
Since then, Vandenbergh has studied the impact of personal and corporate behavior on reducing carbon emissions and, generally, the motivations for individuals, corporations and advocacy groups to use contracts, voluntary certification standards and other private governance tools to achieve environmentally friendly goals. His 2007 UCLA Law Review article, "The New Wal-Mart Effect," explored how pressure from environmentally conscious investors and consumers affects the products and purchasing practices of major retailers and industries. By 2006, Vandenbergh noted, more than half of the largest firms in eight retail and industrial sectors had begun to require their domestic and foreign suppliers to comply with voluntary environmental standards through their purchasing contracts. As an example, he cited Wal-Mart's 2006 announcement that it would purchase wild-caught fish only from fisheries certified by the Marine Stewardship Council, which had established a voluntary compliance program to ensure the sustainability of the fish supply. "Wal-Mart's move generated a positive ripple effect through the grocery and fishing industries because Wal-Mart is the largest seller of groceries in the U.S. and a major seller of wild-caught fish," Vandenbergh said.
To better understand the relationships between private behavior and environmental policy, Vandenbergh has teamed up with scholars in fields ranging from economics, social psychology, political science and sociology to physics, earth science and engineering. These collaborations led to research published in the Proceedings of the National Academy of Sciences and leading peer-reviewed journals, such as Nature Climate Change, Energy Policy and Energy Economics. "Many of the most important questions relating to energy and environmental policy arise from gaps between different disciplines, and we are lucky to have a number of leading legal scholars and scientists with the intellectual curiosity and desire to tackle a hard issue like climate change here at Vanderbilt," he said. "All I have to do to work with world-class social and natural scientists is walk out of the law school and across the lawn to the next building."
As part of his interdisciplinary work, Vandenbergh co-founded the Vanderbilt Climate Change Research Network, which he has directed since 2007. "What the CCRN is doing is exciting because we don't simply accept the common wisdom of any single discipline; we build teams with expertise from several disciplines to explore environmental and energy questions in ways that are both theoretically sophisticated and empirically tested," he said. The CCRN has demonstrated that vast amounts of energy are wasted because of widely held public myths about behaviors ranging from motor vehicle idling to the value of hot water in hand washing, research that received widespread media attention, including USA Today, National Geographic and Smithsonian Magazine. Current CCRN research is focused on how much people care about their legacy, whether legacy concerns affect their behavior and if adopting one environmentally friendly behavior, such as recycling, may affect other behaviors, such as turning off a light or purchasing an energy-efficient appliance.
Vandenbergh's 2013 Cornell Law Review article, "Private Environmental Governance," formed the basis of his TEDx talk, in which he encouraged corporations, nonprofit groups and individuals to adopt private governance strategies to reduce their carbon emissions. "A private-governance strategy is an attractive approach whether you're liberal, conservative, moderate or libertarian," he said. "If you're on board with the scientific consensus that human behavior is contributing to climate change, the private-governance strategy buys time for national and international policymakers to overcome gridlock. If you're uncertain about the climate science, the private-governance strategy helps us buy that time by using small-government, private solutions over the next decade while the science becomes more conclusive and more widely understood." A forthcoming UCLA Law Review article, co-authored with Vanderbilt's Gilligan and postdoctoral fellow Kaitlin Toner of the Vanderbilt Institute for Energy and the Environment, proposes one such response: the creation of a private prediction market to assess and communicate the implications of climate change.
Vandenbergh earned his undergraduate degree in zoology as a Morehead Scholar at the University of North Carolina and his law degree at the University of Virginia, where he was an Armour Scholar and editor-in-chief of the Virginia Law Review. After clerking for Judge Edward R. Becker of the U.S. Court of Appeals for the Third Circuit, he was the chief of staff to the administrator of the Environmental Protection Agency before becoming a partner in Latham & Watkins' Washington, D.C., office.
About the David Daniels Allen Chair
The David Daniels Allen Distinguished Chair of Law was endowed in honor of David Daniels Allen (BA'58), a founding partner of Reynolds Allen & Cook in Houston, after his untimely death in 1980 at the height of his legal career. A group of friends and Vanderbilt alumni led by a close friend of Allen's father, George Brown, established the chair with contributions from the Brown Foundation; Allen's widow, Beth Allen Blakemore; his father, Herbert Allen, former CEO of Cameron Iron Works Company in Houston; Milton Underwood '28; Cameron Iron Works; and J. Hicks Lanier (BA'62). Two additional Allen chairs were established when the endowment became sufficient to support three faculty appointments; the other Allen Chairs are held by Associate Dean for Academic Affairs Lisa Schultz Bressman and Professor J.B. Ruhl, who co-directs Vanderbilt's Energy, Environment and Land Use Program. Vanderbilt Law currently has 13 permanent endowed chairs and two rotating chair appointments.
---