Nat Robinson '18 (MBA'07)
Nat Robinson's sense of humor is reflected on the front of his 2016 book, Creating a Cash Cow in Kenya, in which he relates his seven-year experience of starting and running a micro lending company in Nairobi. The cover features a Kenyan man transporting a cow on a motorbike.
Robinson is now a third-year student at Vanderbilt Law. But his path to law school started in Kenya, where he first traveled in 2008 as a consultant for the Grassroots Business Initiative of the International Finance Corp. After earning his MBA at Vanderbilt's Owen Graduate School of Management in 2007, Robinson had joined Accenture, a D.C.-based consulting firm that the IFC hired to research companies it might invest in. He jumped at the chance to work in Africa and quickly fell in love with Kenya. He also identified an urgent need for a locally based system of financing that would allow Kenya's farmer to lift themselves out of poverty.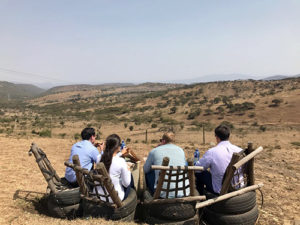 When his eight-month IFC assignment ended, Robinson stayed in Kenya—and set to work recruiting investors willing to provide $5 million of seed funding for his venture. It was a tough sell. "Investing in African agriculture is high risk, and you get a low return," he said. Only 10 of the 150 potential investors he cold-called initially invested in his micro lending firm, which he called Juhudi Kilimo, which means "effort in agriculture in Swahili. But the firm's early success attracted other investors, including the Rockefeller Foundation, the Ford Foundation, the Soros Economic Development Fund, Deutsche Bank and Kiva.org. Juhudi Kilimo won the Social Entrepreneur of the Year Award at the 2011 World Economic Forum and provided more than 50,000 loans work $30 million between 2009 and 2016. "We financed the purchase of 23,000 cows by some of Kenya's poorest farmers," Robinson recalled proudly. Scholar Kristiana Raube's case study, "Juhudi Kilimo: Designing Microfinance Staff Incentive Plans," [https://hbr.org/product/juhudi-kilimo-designing-microfinance-staff-incentive-plans-a/B5789-PDF-ENG ] was recently published in the Harvard Business Review.
But by 2016, Robinson "had reached a crossroads—I either needed to return to the U.S., or I would stay in Kenya for my entire career," he said. He returned to his hometown, Denver, and started studying for the LSAT. "Law school sounds like a non-sequitur," he said. "But I had often thought legal skills would be a huge asset."
Law school has energized Robinson. As a 2L, he traveled to Dubai with classmate Yalda Godusi '18 and Owen students Kayla Armgardt and Tori Samples to compete for the 2017 Hult Prize for social entrepreneurs. Their project, Hydrohaven, proposed deploying idle cruise ships to help resettle refugees from Syria and African nations. They reached the final round of the prestigious competition.
For summer 2017, Robinson secured a grant from the Turner Center for Social Ventures to fund the development of a secure mobile banking system refugees could use a cell phone to access. "Transporting assets safely is a major hurdle for refugees," he said. "They may pay smugglers to help them escape their country, and then they arrive in a camp or country where they have no identity, no assets and no credit history."
The Turner Center him assemble a team of two Owen MBA students and a graduate student at the Graduate Program in Economic Development (GPED), who traveled with Robinson to four continents and six countries to conduct market research. Robinson dubbed their start-up "Leaf," because it will offer "financial services beyond the bank branch." Leaf received $15,000 in additional support as the winner of the 36/86: Student Edition Pitch Competition in June. "Most of that money went to blockchain developers to build a test version of the technology," Robinson explained. Leaf is now competing in the final round of a Denver start-up competition for $100,000 of funding. His legal skills, he says, are an "incredible asset" to entrepreneurial endeavors. "Understanding how regulation works and operates is extremely valuable when you're creating businesses," he said.
---